In this edition of EcoNews, we bring you our message to Premier Higgs after a new report shows New Brunswick is a national laggard on energy efficiency; we welcome new commitments on climate action in the 2019 Speech from the Throne; we invite you to join youth in Fredericton (and across the globe) participating in tomorrow's International Climate Strike; we give you the details on a pair of upcoming book readings (plus a great gift idea); and we share an opportunity for you to help us win a $5,000 donation from CanadaHelps!
NEWS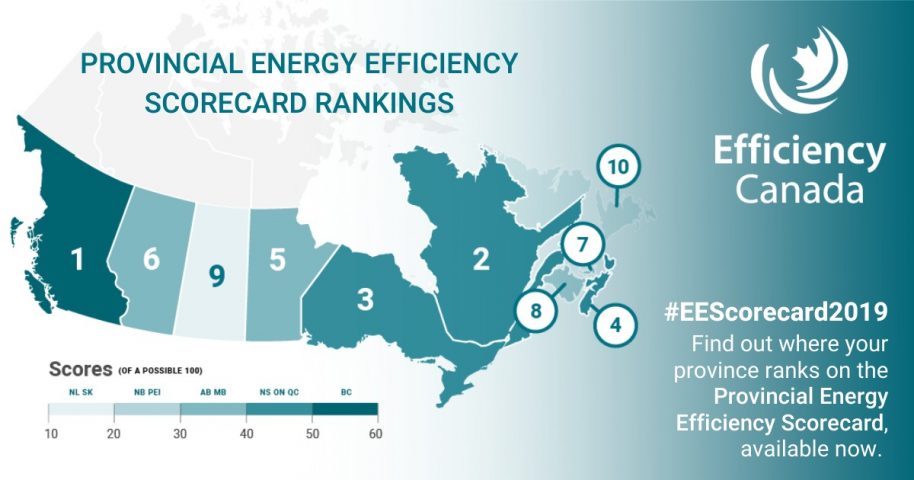 Premier failing seniors, small businesses by lagging on energy efficiency 
After a national scorecard revealed New Brunswick is a major laggard on energy efficiency, we had a simple message for Premier Blaine Higgs: stop wasting citizens' money in failing court cases and start buying bales of insulation for our seniors' drafty homes.  New Brunswick placed 8th out of 10 in Efficiency Canada's first-ever national ranking of policies, programs and incentives around energy efficiency. Click below to read our full statement on how Premier Higgs and the provincial government can better help citizens and businesses save money on electricity costs and reduce the carbon pollution driving climate change.

Reacting to climate action commitments in Throne Speech
We're pleased to see significant commitments to address climate change in the 2019 Throne Speech. The speech, which opened a new session of the provincial legislature on Nov. 19, committed to creating an effective and fair carbon pricing system for the province, fully implementing the Climate Change Action Plan, and supporting towns and villages in efforts to protect residents from the impacts of climate change and extreme weather, among others. Click below to see our full statement.
What a deal! Your pledge could help us win $5,000!
Giving Tuesday is just around the corner and our friends at CanadaHelps are offering you an awesome opportunity to double-down on your support for environmental protection in New Brunswick! When you make a pledge to donate to the Conservation Council on Giving Tuesday, we are entered into a draw to receive a $5,000 donation from CanadaHelps. Take 30 seconds and make your next gift to the Conservation Council carry even more weight — please consider making your Giving Tuesday pledge today!

International Climate Strike — Nov. 29
Stand with the youth of the world to demand immediate action on climate change at the next #FridaysforFuture International Climate Strike! The Conservation Council's youth environmental group have organized a strike in Fredericton tomorrow (Friday, Nov. 29) from 1 – 2 p.m.  at the Legislative Assembly of New Brunswick. We'll be hosting a poster-making session beginning at 11:30 a.m. at Conserver House (180 St. John St.). Bring your voice and your passion as we inspire the change we need to protect our communities from climate change and extreme weather!
Great Trees, Great Gift
If you missed one of the launch events this summer for our bestselling new book, The Great Trees of New Brunswick, Vol. 2, don't fret! Authors David Palmer and Tracy Glynn are back at it for a book-signing on Saturday, Dec 7. from 11 a.m. – 1 p.m. at Chapters in Fredericton. With the holiday season fast approaching, this book is the perfect gift for woods-loving New Brunswickers who enjoy getting out and about! Find full event details from publisher Goose Lane Editions at the button below, or click here to get your copy today!

Reading and artist talk: N.B. author invites you to tackle eco-anxiety with a poetic odyssey on the Bay of Fundy
Are you struggling with eco-anxiety? New Brunswick theater artist turned author Elizabeth Glenn-Copeland spent years channeling her own grief (and hope for the future) into a poetic odyssey exploring our relationship with the natural world from the beautiful vantage of the Joggins Fossil Cliffs on the Bay of Fundy. Join Glenn-Copeland for in-depth book reading, book signing, and artist talk at 2 p.m. on Saturday, Nov. 30 at Westminster Books (88 York St., Fredericton), featuring an introduction from our own Learning Outside project coordinator, Nadine Ives!
We work hard to make sure a strong environmental voice is heard in the New Brunswick print, radio and television media. Here are the latest stories Conservation Council staff have been called upon for expertise, analysis and commentary:
THANK YOU FOR READING!