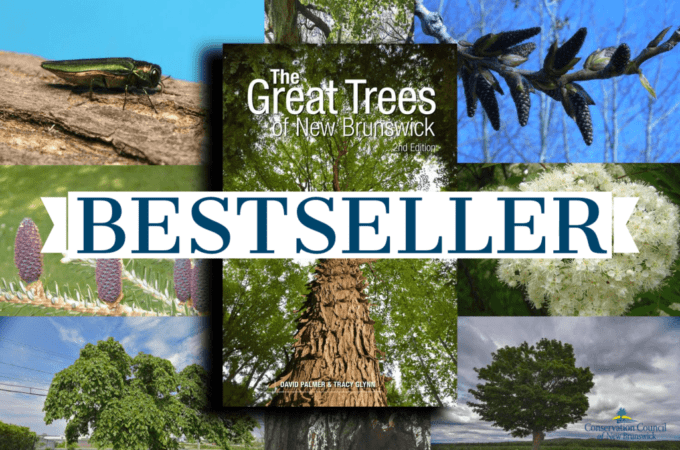 Have you got your copy of our bestselling new book, The Great Trees of New Brunswick?
This book is a must-have for woods-loving New Brunswickers who enjoy getting out and about. Bestselling authors Tracy Glynn and David Palmer offer heartfelt stories from New Brunswickers who share a deep appreciation for nature while serving up the definitive field guide for native tree species in our province, fun tree trivia questions, and information on how our changing climate will affect the trees we love.
Hard copies of the book have arrived and are on sale at our office, Conserver House (180 St. John St., Fredericton)!
Stop by any time between 9 a.m. – 4:30 p.m. to purchase your copy of The Great Trees of New Brunswick, 2nd Edition, for only $28. 
When you purchase your Great Trees of New Brunswick, 2nd Edition from the Conservation Council, a portion of the proceeds goes toward our work to protect the natural, mixed-wood Acadian forest.
Authors Palmer, a longtime forester, and the Conservation Council's former Forest Campaigner, Glynn, made sure to capture each and every one of our province's 32 native tree species, giving New Brunswickers a one-stop guide to understanding all the different types of trees that contribute so much to the beauty and way of life in our province.
The book is also available for purchase online through New Brunswick publisher Goose Lane Editions.
SNEAK PEAK
Watch The Great Trees of New Brunswick Book Teaser