From Harm to Harmony Exhibition
The Healing Power of Nature
Inspiring Action. Nurturing Artists. Building Community
Explore our Community Arts Project
Art Exhibition Summer 2021
Our From Harm to Harmony: The Healing Power Of Nature project connects New Brunswick artists of all levels and backgrounds with experienced artist facilitators to help express participants' feelings about climate change and environmental issues while raising awareness about these challenges and their solutions. 
The project emerged in 2020 from a partnership between the Conservation Council of New Brunswick (CCNB) and the International Centre of Art for Social Change (ICASC) as part of their national FUTURES/forward mentorship program, which embeds community-engaged artists within organizations to address the pressing environmental issues of our times. Phase 2 of the project began in 2021 with an exhibition taking place in Spring 2022. You can see and purchase some of the works artists have produced so far by visiting our Community Art Fundraiser portal, where 30 per cent of all proceeds go to support the Conservation Council's work!
The work produced in Phase 1 were featured at an exhibition hosted by the UNB Art Centre in March 2020.  The exhibition presented artwork culminating from a collaboration initiated through a remote-artist residency led by community-engaged environmental artist Juliana Bedoya in British Columbia and a diverse group of community participants from different geographic regions in New Brunswick.
Participants were invited to join this remote residency to express, through art, their ideas and feelings about climate change. The group met weekly via Zoom to converse and discuss environmental issues from a global to a local perspective, and from there, to develop the concepts and pieces presented in this show. Through their work, the artists sought to inspire changes in behaviours in New Brunswick and to offer a space for reflection on ways we might repair our relationship with nature, partly by experiencing its healing power reflected in the artwork.
Varying in age, culture, and professional backgrounds, participants exchanged skills and navigated different mediums and technologies—including embroidery, paper mache, photography, rug hooking, video production, felting, weaving with plant materials, and more—to create individual pieces that are amalgamated into a collaborative narrative that takes visitors from a hopeless reality of climate change, destruction, and harm to an action-driven world where humans are inspired to change their habits to live in harmony with nature.
By creating awareness about the specific challenges that climate change poses in New Brunswick, such as increased flooding, summer droughts, decreasing biodiversity caused by human industry, etc., we hope to inspire New Brunswickers to adopt more thoughtful practices (buying local, tree planting and species restoration, habitat conservation, reducing and recycling packaging, etc.) that will mitigate or redress the negative impacts of climate change.
Meet the artists behind this art exhibition
Fred Harrison and Grade 9 Students from the Sussex Regional High School
What If All the Trees Died
Fred Harrison is best known locally for murals in Sussex, St John, Moncton, Petitcodiac and St Martins. In collaboration with Darren Byers, they have created bronze sculptures commemorating workers in St John, Northrop Frye in Moncton and William Ganong in St. Stephen. Winters are spent on easel painting focusing on New Brunswick landscape.
"Where I live I can walk immediately into the woods where I find peaceful renewal. It is disheartening to see clear cutting going on and the soil being robbed of nutrients. It is a short step to the destruction of the conditions for life for our trees as climate becomes more chaotic. Hence the warning made by the dead tree and the handprints of regretful people, in this case created by a grade nine class at Sussex Regional High School."           
Josephine L. Savarese with Dirk Groenenburg
Seeds of Hope and Harmony
Medium: Papier mache, wheat paste, cardboard, newsprint, organic seed and seed packages, non toxic project paint for children. 
Josephine was born in the United States in a region known for its diverse population, including a significant Latinx population. Birthdays and other key events were often celebrated by creating and then breaking a piñata. These experiences fostered Josephine's appreciation for this art form. The piñata is intriguing because it can take on varied shapes and meanings. A piñata holds secret treasures that the recipient has to work for. As a result, it seemed, for Josephine, like the perfect form to include in an artistic exhibition dedicated to finding harmony with the natural world. The current level of environmental destruction means hope is often hard to find, like the prizes within the piñata. 
The piñata in this exhibit was filled with organic seeds, donated by a local organic farmer, Dirk Groenenberg. 
The piñata – filled with organic seeds and decorated with scenes painted by some of the younger members of a newcomer family, the Al Khliefs, may spark reflection on environmental and social justice as well as food sovereignty. The piñata may serve as an invitation to consider the importance of local and Indigenous food sourcing models. The piñata is meant to be an artistic portal towards the greener, more hopeful, more harmonious futures this exhibition makes space for.
Thanks to Adam, Chahed, Haytham, Issa, and Maya Al Khlief – and their families who love and support them – for their paintings inspired by the large family garden planted and carefully tended over the summer months that sustains them and their many friends. 
When the Saint John River Floods
Of the many different Rivers in North America, you would be hard pressed to find one that has more history or diversity of its natural features. It was called the W'alustuk meaning "Bountiful Beautiful River" by the Maliseet people of Saint John River Valley. It is over 700 km long and is culturally and historically important to First Nations people and European settlers alike. It is home to numerous industries including power, food production and process, lumber and paper products.  The river basin supports over 500,000 people.  The outcome of these and other activities have had a substantial impact on the river's system.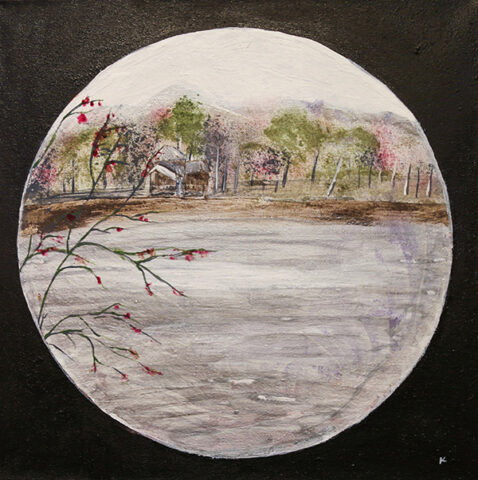 Climate change is increasing the frequency and severity of flooding in New Brunswick. During the 2018 flood, water levels were 5.4 meters above sea level, highs not seen in almost 50 years. Portions of the trans Canada highway were closed off, Darlings Island residents were either evacuated or forced to travel by boat and over 12 000  homes were flooded or damaged, some were ripped completely off their foundations. The devastation was widespread and the effects are still being felt today and will be for years to come.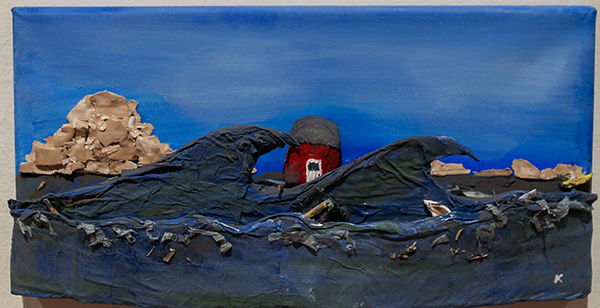 Marsh Underwater: A small piece with huge importance
Marshes are the earth's kidneys, they filter sediment and toxins out of our lakes, rivers and streams. The marsh plants and animals break down sewage and many chemicals. They buffer stormy seas, slow shoreline erosion and offer shelter and nesting sites. Marshes are built to sustain some level of flooding but anything over 1m above sea level is increasingly stressful on the plants that filter pollutants from the soil and the shallow water; so stressful that it eventually leads to death.
Three Trees: Life Across Canada
Trees play an important role in maintaining life. In addition to providing oxygen, each tree has many purposes.
Strong and ancient trees provide a home to many and a  playground for young brothers in this Vancouver Island backyard forest.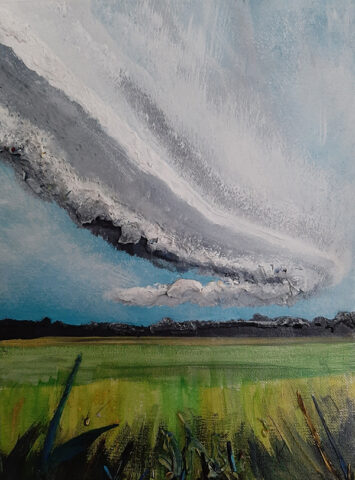 A line of sturdy evergreens protect a lush Saskatchewan field of alfalfa from a midsummer storm.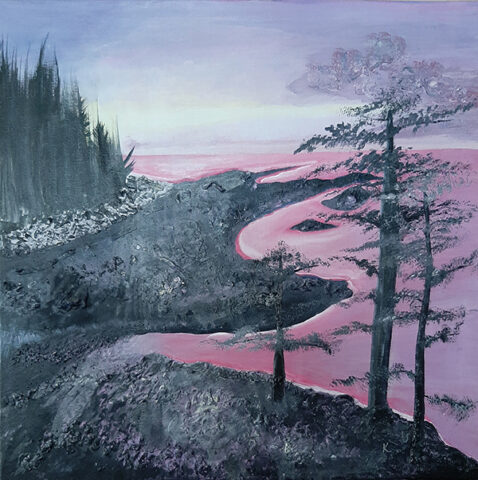 The majestic trees line the shore in the earliest moments of dawn along the Maritime coast.
Kristin Singh was born and raised in Saskatchewan where she was immersed in the arts at an early age. Studying  piano, flute, piccolo and music theory from age 7 along with being introduced to fine art in high school has inspired her to become a professional artist. Since moving to Hampton, New Brunswick in 2017 Kristin has expanded her involvement with the arts by developing a piano based music program for toddlers and special needs children, instructing art therapy sessions for seniors, sitting on a non-profit board and volunteering in the local schools as a librarian. In 2020 she opened a small gallery for local artists with the intention to make art more accessible and expanding the definition of fine art. While she is best known for her abstract paintings and her unique style of "sculpting" on canvas, her artwork varies in style and medium. Her explorations into using natural elements in her artwork has led to creating with the intent to bring awareness to the environmental challenges we are facing.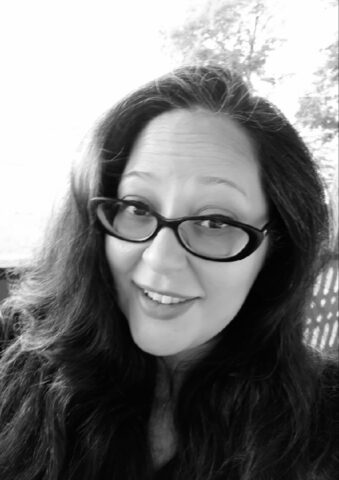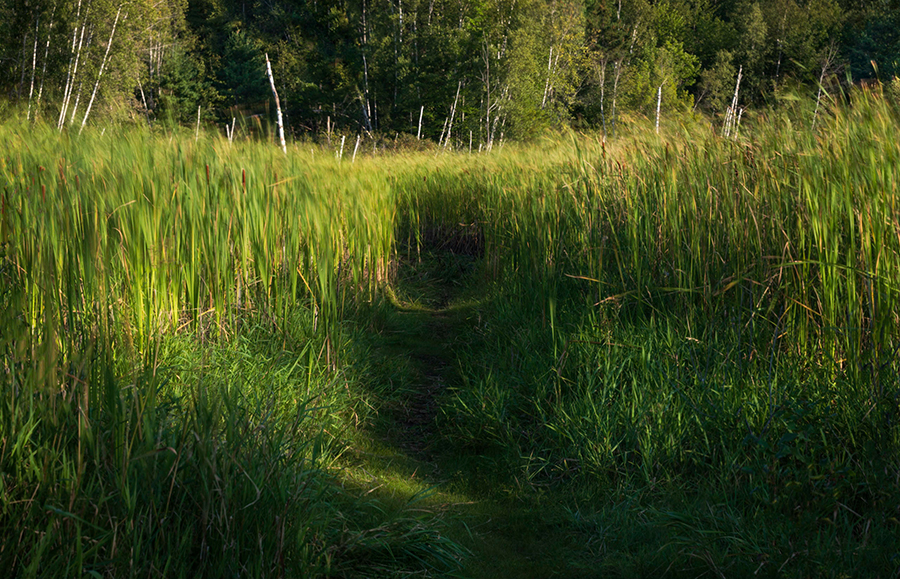 This Image was created to showcase the powerful resiliency of nature. This scene was captured in Hyla Park, Fredericton, NB. Historically, Hyla Park has been subjected to considerable environmental degradation and disturbance. In the past it has been used as a gravel extraction site and also a race track. But when you visit the thriving park today, it is full of life — with 10 foot tall cattails swaying in harmony, dancing over its harmful past. I would highly encourage viewers to visit Hyla Park to witness one of the most resilient and unique parks in all of New Brunswick. 
Medium:  Gouache on watercolor paper
A path to Harmony is a sequential art story about a lost soul who discovers new meaning through a transformative journey with two nature spirits, a chickadee named Harmony and the booglatamootj, the fairy folk of Mi'kmaq folklore.  The burnt sienna, yellow ochre, black and white color palette of the piece is inspired by ancient cave paintings and other indigenous traditions around the world.  
He has been a forestry worker, a volunteer firefighter, a meat department manager and a figure drawing instructor.  Until recently, he was an environmental technician with the Friends of the Kouchibouguacis, a watershed group working closely with Elsipogtog First Nations and Parks Canada on habitat surveys and Atlantic salmon population restoration. 
Mario is presently a member of the editorial board of Canada's Local Gardener magazine and the community gardens coordinator with the Kent Community Inclusion Network, a non-profit organisation whose goal is to reduce poverty and promote inclusiveness in Kent County, New Brunswick. 
Mario Doiron is an Acadian artist and outdoorsman residing in Saint-Paul, New Brunswick where he operates a small hobby farm, organic kitchen garden and woodlot. 
He studied graphic design at Dieppe Community College.  This led to a twenty year career in the garment screen printing industry, specializing in school, team sports and tourism wear.  He has also designed mascots including Acajoux for the Acadian games, Renardi for the city of Dieppe and Burny the firefighting beaver for Prevention Source.  Over the years, he has done many freelance portrait commissions, landscapes, wildlife & pet portraits.  Through it all, a profound love of nature has informed his creative perspective.
After hearing the idea for the story, artist Danielle Smith wanted nothing more than to bring Mario's characters to life. Danielle has created three 3D needle felted wool sculptures of characters featured in " A path to Harmony".
Mixed Media: carded wool, Polymer clay, acrylic paint, wire
Mixed Media: carded wool, embroidery floss. Stand: wooden trivet, dried moss.
Sticks and Stones Character
Mixed Media; carded wool, embroidery floss, lava stone beads. Stand: birch branch
The Cost of Climate Change in New Brunswick
In New Brunswick, we love to boast about our beautiful and awe-inspiring natural wonders. Yet, climate change has the capacity to completely alter the natural world as we know it, leading to mass extinction events, extirpation of local flora and fauna, and ecosystem destruction.  Most people are aware of the risks of climate change and have heard the scientific community's message – "Act before it is too late!". The difficulty is conceptualizing what that means and how New Brunswick will be affected.  This "The Cost of Climate Change in New Brunswick" series highlights different well-loved New Brunswick species that will be lost from our area forever if we do not win the fight against climate change. My wish as the artist is to remind you how beautiful nature is and to remind our community of what is at risk of being lost. 
The Cost of Climate Change: Nature's Lady in White
Could you imagine walking around a forest in New Brunswick with no white birch trees?
White Birch (Betula poriferae), referred to in European folklore as the "Lady of the Forest", is an iconic species in New Brunswick.  Generations of First Nations peoples, Canada's earliest European settlers, and voyageurs relied on the use of birch bark for building canoes to traverse our province's watersheds. Over time agriculture and forestry have caused New Brunswick to be dominated by large-scale disturbance adapted species, which are generally more affiliated with northern colder climates, such as balsam fir, white spruce, tamarack, and white birch. Consequently, the forests will be highly stressed by direct and indirect climatic effects, including pest outbreaks and increased temperatures leading to decreased habitat suitability. As such, it is predicted that Southern-adapted species will benefit from the climatic changes, leading to the extirpation of cold-tolerant species like the White Birch. 
The Cost of Climate Change: Nature's Crown Jewel
Could you imagine a world where children could not experience firsthand the beauty of the monarch butterfly? The monarch butterfly (Danaus plexippus) is one of the most recognizable and well-studied butterflies on earth. Famous for their exceptionally long seasonal migration, millions of monarchs migrate from Canada south to California and Mexico for the winter. The impacts of climate change and habitat loss are now threatening monarch butterflies with extinction. Increasing carbon dioxide levels may be making milkweed—the only food monarch caterpillars will eat—too toxic for the monarchs to tolerate.     
The Cost of Climate Change: Nature's Organic Farmers
Would you want a world where you do not get to see and hear a plump bumblebee buzzing from one flower to the next? One 2011 study found that wild bumblebee (Bombus) species had declined by up to 96% and their ranges had contracted by at least one-quarter. Bumblebees and other pollinators are already suffering from habitat loss, nutritional deficiencies, and lack of varied diets which have been tied directly to climate change. On top of that scientists are finding a strong correlation between bee population declines and the increase in days where temperatures are above their tolerance. 
Danielle Smith was born and raised in New Brunswick, but has lived and traveled internationally. Danielle graduated from the University of New Brunswick with an undergraduate degree in Biology and a Master of Science in Forestry. Danielle currently works at the University of New Brunswick as the Sustainability Coordinator and is responsible for the institution's Climate Change Plan. Danielle is an emerging self-taught fiber artist whose preferred medium is sheep's wool. Danielle manipulates the wool by stabbing it repeatedly with barbed needles producing both 2D and 3D pieces. Danielle also likes to include other techniques such as embroidery, hand stitching, and beadwork into her pieces to provide texture and depth.  Danielle fell in love with nature at an early age and has spent most of her adult years trying to protect it. It is only fitting as an emerging artist, that she now highlights her love of nature by featuring its beauty in her artwork. 
This won't keep you warm!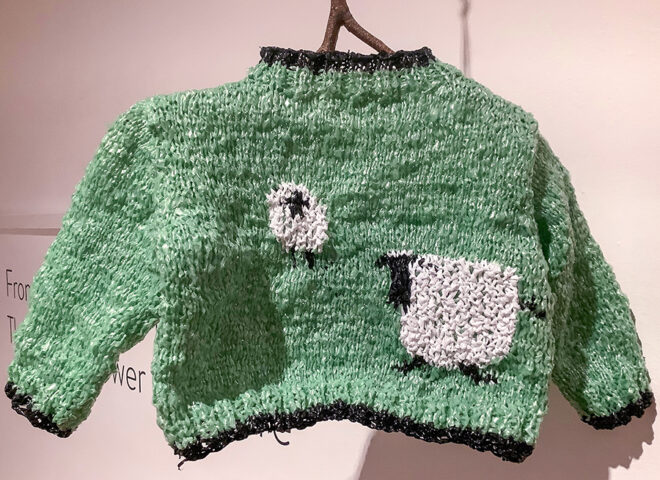 Medium: Recycled plastic bags
Small hooked mat created using traditional rug hooking technique, substituting recycled household plastic waste (bags cut into strips) in place of wool.
Small hooked mat created using traditional rug hooking technique, substituting recycled household plastic waste (bags cut into strips) in place of wool. 
Small hooked mat created using traditional rug hooking technique, substituting recycled household plastic waste (bags cut into strips) in place of wool.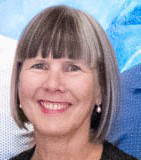 Caroline Simpson is a fibre artist living in Fredericton, New Brunswick, specializing in hand-hooked rugs, pictorial embroidery, and lace knitwear. She draws inspiration from the plants and wild animals that can be found in New Brunswick's ample unspoiled countryside and in urban areas. Her rug and embroidery designs are mainly based on her own photos, using natural materials, such as hand-dyed wool fabrics and yarn, hooked into linen or burlap backings. For embroidery, she works with cotton and silk threads on silk or linen backings. She often incorporates beads into her embroidery and knitting. For this project, she explores ways to use recycled plastic household waste in the context of traditional craft to bring attention to the detrimental proliferation of this man-made material in our natural environment.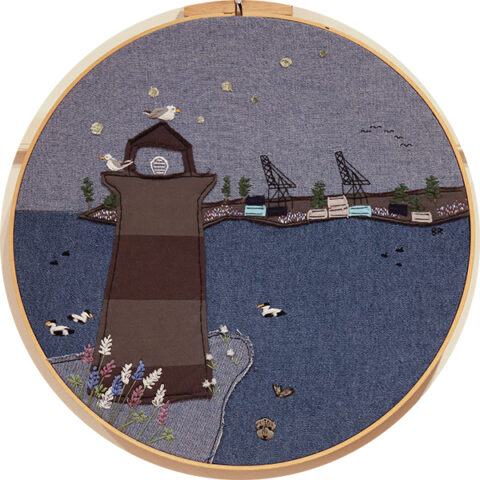 Medium: Repurposed fabric, embroidery floss, wooden embroidery hoop
This embroidery imagines an abandoned coastal city, where native vegetation takes back the concrete covered landscape and sea-life thrives in the rising tides. These discarded fabric scraps once represented our indifference for the land and the local stresses that exacerbate that. Now, they have been upcycled to illustrate a resilient, recovering landscape, bringing them new life.
Bethany Reinhart is of colonial descent and is a Saint John-based creator living and working on the unceded territory of the Wolastoqiyik and Mi'kmaq People. Bethany is also an aquatic biologist and a proud ally of the environment in pursuit of studying contaminants in the Saint John Harbour. Bethany's artwork draws inspiration from the Earth's natural splendours, environmentalism, and femininity. Her embroidery work reflects these inspirations, featuring all things New Brunswick, and creating a space for understanding, appreciating, and connecting with even the small members of our natural world.  
Dirk Groenenberg, Josephine Savarese, Maya Ah Klief, Ralph Simpson, Juliana Bedoya, Caroline Simpson, and Bethany Reinhart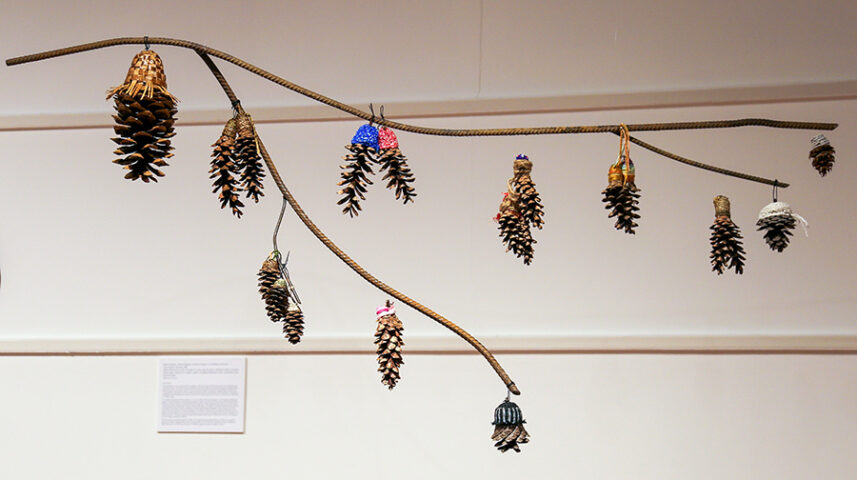 Medium: Rebar, White pine cones, Douglas fir cones, day lily stems, dandelion stems, recycled plastic bags, waxed linen, paper, cattail, Himalayan Blackberry bark, embroidery floss, and birch bark.
This installation was inspired by the majestic white pine trees of New Brunswick. and represents all coniferous trees. The branch and suspended cones are meant to provoke thoughts on regeneration while serving as a reminder that the cones carry the seeds necessary for regeneration but also carry the genetic information of the conifers imperative to the continuation of the species. This artistic installation demonstrates the need to protect the conifer seed source and to ensure the continuation of healthy trees. 
The eastern white pine (Pinus strobus L.) is one of the climax tree species in the Acadian forest ecosystem in New Brunswick and needs protection. Only one percent of the old growth forests of New Brunswick remain due to over harvesting and forest fire. These majestic trees can grow to 30 metres reaching maturity at 200 years of age, occasionally taller and older. It has been reported that without protection the present eastern white pine stands will gradually disappear and the species will become less pronounced on some landscapes.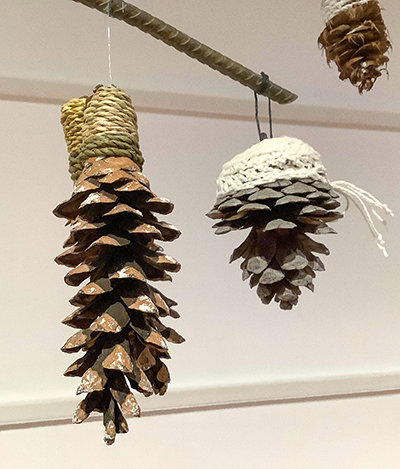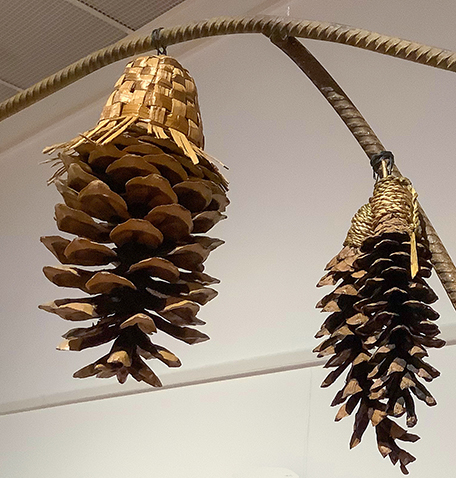 The Eastern white pine is a symbol of strength and resilience and should be nurtured and restored to its once prominent place in the forest ecosystems of New Brunswick. Climate change and especially global warming are limiting the success of programs to aid in these restorative efforts.
All trees aid in storing atmospheric carbon and restoring and protecting our forests is a powerful method of carbon sequestration with many benefits to both the flora and fauna (man included) of New Brunswick, not the least of which is buffering against extreme weather events.
Ralph Simpson, Abigail Reinhart, Kristin Singh, Mitchell Milbury, Juliana Bedoya, Bethany Reinhart, Caroline Simpson, Josephine Savarese and members of the Al Khlief family
From Harm to Harmony Zoom Collage
Medium: Mixed Media including drawing, doodling, painting with home made inks, Photo Print on Somerset Velvet, natural paint on unbleached canvas, wax crayon,  paper, pencil, black ash fibre, water colour paints and non-toxic project paints.
Participating artists were invited to bring any project of their choice, a flat surface or substrate to draw, doodle or paint with any mark making pen, brush or tool during each Zoom meeting, for the duration of the project. Each participant submitted their work from each of their geographic locations across New Brunswick and from British Columbia to contribute to this collaborative piece that documents their conversations and reflections from an individual perspective and as a group. The individual pieces that are assembled in this collection were made in square format to resemble the video squares on the "Zoom grid", as this was how the group interacted during the sessions in this virtual space. 
New Brunswick our house is on fire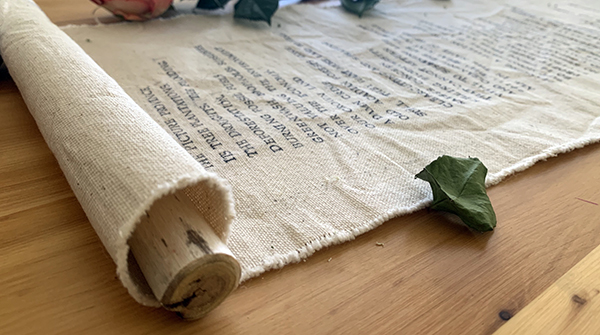 Medium: archival ink on unbleached canvas. 
This piece raises awareness about the government neglecting their role as representatives of the people and instead supporting the industries that value environmental destruction over environmental protection. Concern over New Brunswick's oligarchs controlling political operations and using media dominance to deceive the public is what inspired the creation of this poetry. Sickened by false narratives of the industries claiming to fight climate change and contribute to the local economy, the artist wrote about the unsustainable and outdated practices that actually contribute heavily to global warming, harm all living things, and take huge amounts of revenue from the province.