Citizens Can Do Their Part
We have the power to turn the climate crisis around

We can all play our part in solving climate change.
According to Statistics Canada, just under 20 percent of Canada's greenhouse gas emissions come from activities in households, including transportation. If we add the emissions associated with things we buy like food, clothes, and consumer products, household emissions rise to over 40 percent of Canada's total. If we add emissions related to flying, household emissions rise even more.
Taking direct action is important. So is talking to friends and family about climate change. When we share our concerns and ideas about solutions, we signal to friends and family that it is an important issue. When we take the time to listen to each other, and speak from the heart about what we each care about, we can find common ground. Check out this guide from Climate Outreach on how to talk about climate change: Climate Outreach's Real Talk Model is a great guide → 
Climate Outreach's Real Talk Model:
Respect your conversational partner and find common ground
Enjoy the conversation
Ask questions
Listen, and show you've heard
Tell your story
Action makes it easier (but doesn't fix it)
Learn from the conversation
Keep going and keep connected
Talking about climate change is a great first step to acting. When you tell friends and family how you feel about it, they start to care too. Share these resources and comment on social media like Facebook, Instagram and Twitter. Social media comments influence how people think about issues. Let them know climate change is important to you. 
There are many solutions to climate change. Some solutions we can manage ourselves but many require government help through policies and incentives (see below for our letter-writing tools to help you call on the government to do more).
As citizens, we can urge decision-makers to do their part and we can do what we can to reduce our household carbon footprint.
Most people think about garbage when they think about environmental problems. We turn to recycling as a solution and we worry about plastics in our oceans. That's a good place to start, but it won't be enough to solve climate change. To do that, we also have to think about the energy we use.
Here are some tips to lowering your carbon footprint covering energy, transportation, food and waste (click on the section title for more information).
Waste generates about six percent of Canada's total greenhouse gas emissions, including from rotting food in landfills and using oil and natural gas to make plastic. Once plastics are in the environment they, on average, take more than 400 years to degrade while leaching toxic chemicals into the natural environment, harming or killing wildlife, and contaminating land and oceans.
Reduce plastics use by buying unpackaged goods and re-using plastics because nearly 90 per cent of plastic in Canada is not recycled and pollutes our lakes, parks, oceans, landfills, or our air when incinerated. Oil and gas are used to make plastics, most of which is used for packaging and then sent to landfills.
Government policies like banning single-use plastics, requiring more recycling and making producers responsible for their waste are important cutting plastics use.
These seven actions do the most to cut food-related greenhouse gas emissions (from energy used to grow or transport food, from rotting food in landfills, animals like beef that burp methane or fossil fuel-based fertilizers).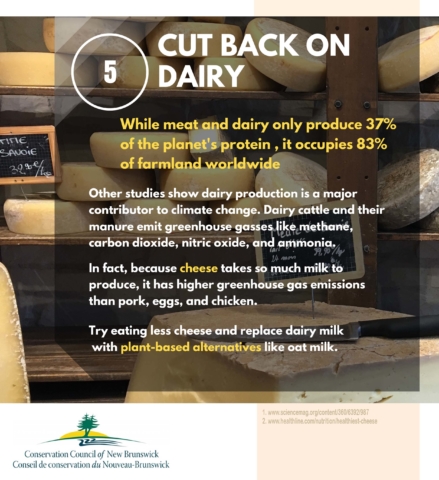 Energy and transportation
The big contributor to household greenhouse gas emissions is our vehicle (about half and more if you count flying) followed by space heating, water heating, appliances, and lighting. Think about these solutions the next time you travel, buy products, and buy or renovate your home:
Travel closer to home, if you can, for your next holiday to avoid flying.
For future vehicle trips, think about how to reduce how much you drive alone, whether that means combining trips, riding with friends and family, or using public transit.
The next time you are in the market for a vehicle look for the most efficient vehicle that meets your needs. The only way to lower the carbon footprint from a vehicle is to burn less fuel. When a sales person tells you a car is clean burning, they mean lower air pollution causing smog. The catalytic converter lowers some kinds of air pollution. That technology does not solve climate change (Click here for climate change basics). If you can afford it, consider a plug-in hybrid or electric vehicle. Natural Resources Canada publishes a vehicle efficiency guide that can help.
Take advantage of NB Power's Home Energy Savings program for help assessing the efficiency of your home and incentives to make your home more efficient and comfortable. You can cut the amount of energy you use for heating by adding insulation, replacing windows, changing out your old furnace or installing a heat pump if you heat with electricity. 
If you are in the market for a new appliance, especially refrigerators that run all the time, look for the EnerGuide or Energy Star rating and aim for the lowest energy consumption you can. 
Solar panels are an option for some of us. NB Power has a net metering program that credits households with the energy they produce. See the links to videos and fact sheets below profiling stories of New Brunswickers who have taken the plunge and are happy they did. 
Send your letters, for the Love of New Brunswick​
Send your letter for an affordable, reliable and renewable electricity system in New Brunswick
Send your #ClimateAction letter to Premier Higgs
Learn more about climate change and solutions:
Ciizens can do their part
Governments can do their part
How and Why Climate Change is Affecting New Brunswick
Who Pollutes our Climate the Most in N.B.?
Videos: For the Love of New Brunswick
These videos explore how climate change is already affecting the things we love doing in New Brunswick, and how we can all do our part for solutions.