Meet our community of artists
From Harm to Harmony: Expressing our ideas and emotions through art
Abigail Reinhart is of colonial descent and is a Kingston, NB-based self taught artist living and working on the stolen territory of the Wolastoqiyik and Mi'kmaq People. With environmental sustainability and creative expression at the heart of her work, Abigail is passionate about creating positive change.  Abigail's artwork draws inspiration from the wonders of nature and takes the form of painting, graphic design, illustration and videography.
Find more art by Abigail Reignhart at artsnack.org.
Heather Marmura (aka the Winter Painter) has been painting all her life.  Her favorite mediums are watercolour, oils, collage, assemblage and printmaking. She loves playing with shapes and colours and her paintings are inspired by the places around her—often Maritime and New England landscapes. She is interested in exploring how one's identity is informed by place. She has taken courses at NSCAD, OCAD and the Haliburton School of Art and Design. She has also taught in various media.
Find more work by Heather Marmura at heathermarmura.com.
 Juliana Bedoya is a community-engaged environmental artist with a background in contemporary sculpture and installation who grew up in Columbia and is now currently living on the ancestral and unceded territory of the K'ómoks First Nation, today known as the Comox Valley in Vancouver Island. She explores plant technologies to creatively connect with the local landscape and to cultivate reciprocal and interconnected relationships with the land and people.
Her work aims to support individuals and community groups to establish their own cultural significance through skill sharing, including all stages of ethically harvesting and processing raw plant materials for art-making and environmental art practice. Using ancestral skills and traditional knowledge that navigates across cultures and mainly working with green waste and invasive plants, her work also aims to support local ecological restoration to foster native ecology. 
Find more work by Juliana Bedoya at plantsareteachers.org.
Renata Britez is a Brazilian- Canadian multidisciplinary artist based in Fredericton, NB. In 2019 she graduated from the Textile Design Program at the New Brunswick College of Craft and Design; the following year she completed the Advanced Studio Practice Program at the same institution. Her work has been shown in exhibitions throughout the Maritimes.
Britez experiments with natural dyes, printing, and felting techniques to make two-dimensional and sculptural pieces. She explores important themes in her textile-based projects. She is critical of the harmful practices of industrial textile production and draws attention to this in her work. She deliberately uses organic materials and low-impact processes to create her product line. Her environmental concerns are also evident in her sculptural works. Britez has shared her expertise in several textile workshops around the region. In her mixed-media works Renata Britez invites us to reflect on our human interactions with, and impacts on, the natural world.
Ralph Simpson is a Canadian plant fibre artist who has developed an innovative method of weaving, bending and sculpting wood and plant fibre to create three-dimensional pieces. His gracefully formed work blends bold colour and innovative material with ephemeral fibres to achieve a perfect balance. Most notably, he was shortlisted for the 2021 Salt Spring National Art Prize. He works in his studio in Fredericton, New Brunswick and exhibits his work locally, nationally and internationally, attending residencies and facilitating workshops. When foraging plant fibre he employs principles that respect environmental sustainability.
Find more work by Ralph Simpson at woodfinreartist.com.
During his lifetime, Jim Keets built lovely black roads and fish-enabled river courses you and trout enjoy and did construction surveying.  He also wrote software to bend AutoCAD to our will back in the day;  and says he has 'the touch,' to locate underground pipes and cables with two bent coat hangers.  
Jim Keets also ran a business focused on rock, landscapes, and gardens; consulted in prospecting, mapping, civic water source geophysics; and rebuilt pottery kilns and their related electronics lately. He also welds and delivers various workshops, built a small sawmill for timber work,  and leads a 'tools under foot' kind of beautiful life with a 'small home' in construction.  
In retirement, Jim Keet fools with Fundy Mud Pottery, The Old Church Farmers Market, and plays a shakuhachi and rav handpan under the name Jampan, sometimes appealing as clown OleStar.  Jum Keets did a film on processing pottery clay.  He has published in Connecting Albert County, has some recipes in a local cookbook or two under his own name or the pseudonym: Jim Liar.    
Find more work by Jim Kitts at Fundy Mud Pottery and The Old Church Farm Market.
Ysabelle Vautour is a visually impaired visual artist from Grand Barachois currently living in Fredericton. She is the founder of the New Brunswick Disability Art Collective Ysabelle Vautour recently collaborated with Theatre New Brunswick and the JRG Art Society for the Arts on Atlantic Canada's first Disability Arts Symposium. 
In 2021 Ysabelle had two solo exhibitions at Corrid'art Gallery in Shediac and at the Penny Gallery in Fredericton; she was awarded an Artsnb creation and career development grant for her project Bodies in Motion. She was featured in Global News, CTV, Disability Without Poverty Roundup, Third Space Gallery Podcast, Ami télé, Acadie Nouvelle, CBC, Art Battle, Created Here Magazine and Grid City Magazine. 
This recent Catapult graduate was the artist in residence at the Fredericton Arts Alliance and Connextion Artist Run's Center's Constellations Collective. She delivered a public talk at NBCCD Craft College and Artslink Short and Sweet Speaker Series. Ysabelle's work was selected for a juried exhibition at the Nails on the Wall Gallery in Metuchen, New Jersey, in 2019 for their Wonderfully Made Exhibit. 
Find more work by Ysabelle Vautour at creatingaccess.org.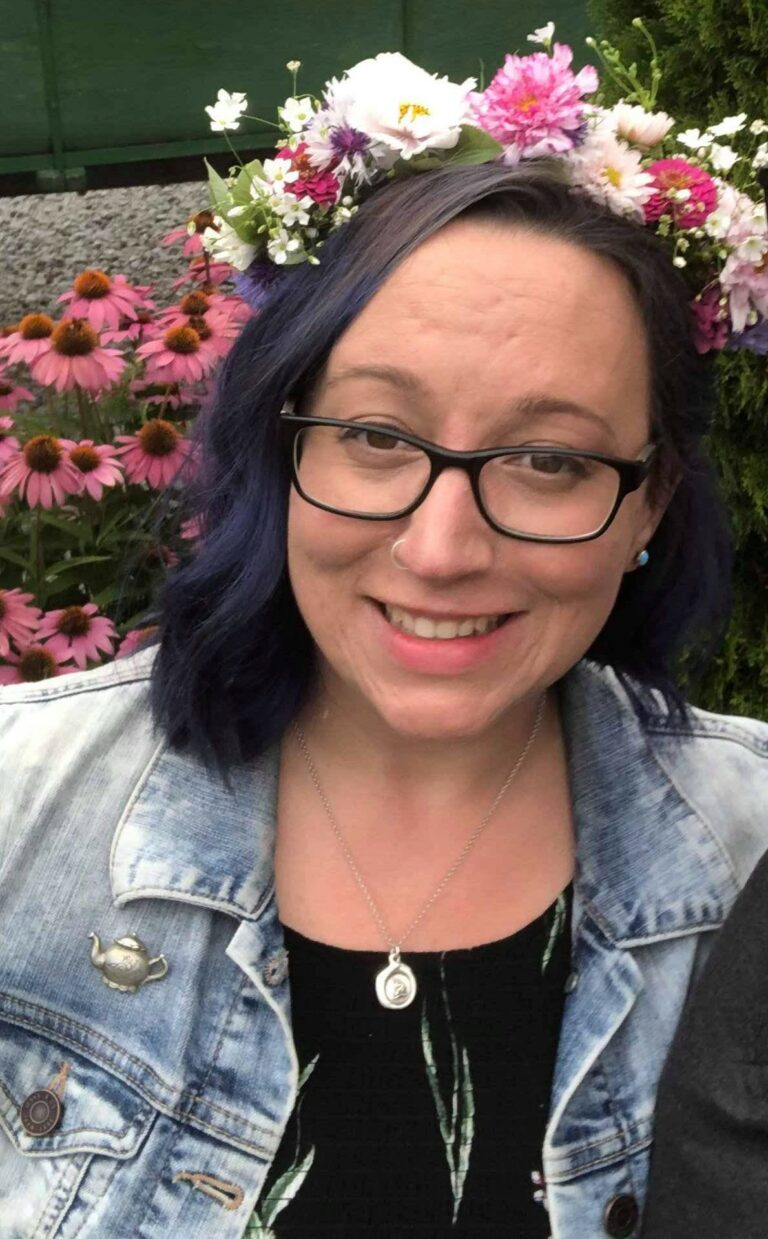 Danielle Smith is a environmentally engaged textile and mixed media artist located on the un-surrendered and unceded traditional lands of the Wolastoqiyik, Mi'kmaq and Passamaquoddy Peoples. Danielle is a self-taught emerging textile artist whose preferred medium is sustainably sourced sheep's wool which is manipulated utilizing both needle and wet felting techniques.
She produces both 2D felt paintings and 3D wool sculptures. She often includes other textile techniques such as embroidery, hand stitching, and beadwork into her pieces to give them texture and depth. Danielle graduated from the University of New Brunswick with a Bachelor of Science in Biology and a Master of Science in Forestry. As a sustainability professional who has made her life's work protecting nature and promoting sustainability, it is only fitting that she now highlights her advocacy work through her art.
Find more work by Danielle Smith at thistlecovefiberstudio.com.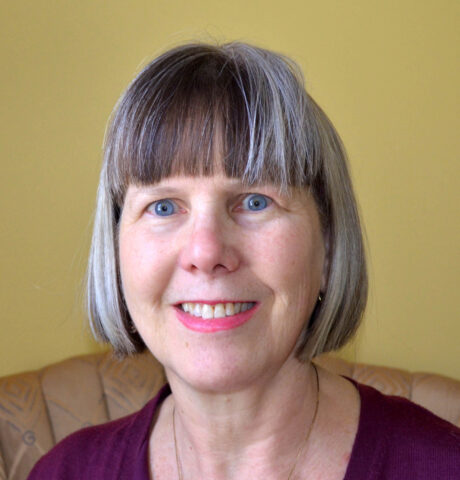 Caroline M. Simpson is a fibre artist, working mostly in contemporary rug hooking, but also skilled in embroidery, beadwork, and knitting. A juried member of CraftNB, she is also a member of the Heritage Rug Hooking Guild, the Evening Matters Guild, and the Nova Scotia Rug Hooking Guild. She is an associate member of the Teachers' Branch of the NSRHG. Her work has been published in Rug Hooking Magazine, an international publication, and has been exhibited at Sunbury Shores, the Andrew and Laura McCain Art Gallery, the UNB Arts Centre, Gallery 78, the Charlotte St. Arts Centre, and at Mount St. Vincent University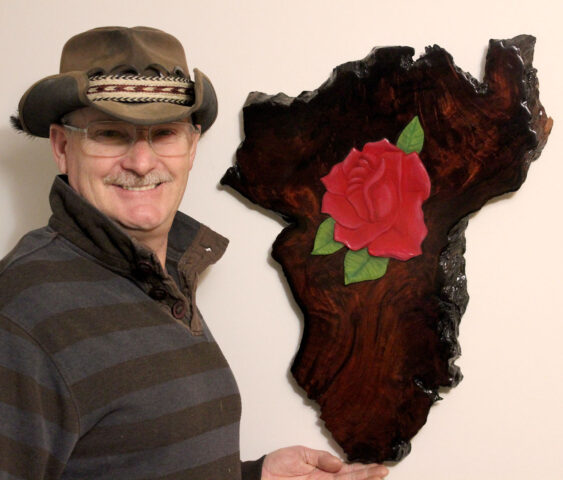 Gary Crosby first fell in love with the art of woodcarving back in 1984 on his first deployment with the Canadian Forces into West Germany. He would spend the next four years working for the CAF and spending his time studying local carvers and clockmakers in the Blackforest, learning their techniques in carving architectural and whimsical sculptures. He would spend the next 31years after Germany visiting coun­ tries across the globe discovering new styles and designs. Countries such as: Rwanda, Central Africa in 1994 where the style was tribal, to Sierra Leone, West Africa in 2001, known for its wildlife carvings, to Honduras 1997 for its religious designs and on to Afghanistan 2003, 2007 and 2008 and the regions' carved furniture designs.
Now that Gary has departed the CAF, he has turned his attention to designing and woodcarving full time from Climate Change art, Wildlife art, Whimsical, Architectural carvings, Garden and Functional Art to include Epoxy/carving art.
He has been a past Member of the Meaford,  Ontario Arts Council and Artists on the Bay. Carving instructor at the Georgian Bay Night school program for adults. Past member of the Wainwright, Alberta Arts Council. Vendor at the Stittsville market in Ottawa for  six years.  Vendor at the  Boyce  Farmers Market,  Fredericton, for the past four years and counting. Carved doors on display at the New Brunswick Conservation Council (CCNB). He has a large sculpture in the Military Engineer Museum in 5th Canadian Division Support Base Gagetown, NB (carvings completed  during  deployments to Afghanistan). Carving on display on the US deployed base Kabul, Afghanistan, and carvings in the ISAF HQ garden Kabul for over ten years, now back in Canada. In local restaurants and pubs across Canada, Japan, Hong Kong, and other countries world­ wide.
Find more work by Gary Crosby at the Magnetic Hill Wharf art shop, amazon.ca, dwcarving.com, darkwood-woodcarving.ca, and soldiermarket.com.
Saint John-based creator, Danielle Manuel, is creating and learning in the unceded and traditional territory of the Wolastoqiyik and Mi'kmaw Nations. Her self-taught work holds many forms including digital art, mixed media, acrylic painting, felting, photography, and most recently, spore printing. She has experience in designing and creating art for an annual publication of poetry, designing album covers, large scale acrylic painting, murals, custom portraits, and other adventures.
Danielle seeks inspiration from the interconnectedness of nature and is a passionate student of the environment. She is fascinated by fungi, birds, music, and radical self-love. She is fueled by wonder, soda water, her eagerness to learn, and her excitement to share. Her distinctive style expresses colour, joy, contrasts, and playfulness.  
Danielle creates and sells custom digital art online where she also shares her escapades in raising monarch butterflies, birding, and mushroom hunting. 
Find more work by Danielle Manuel at www.facebook.com/doonmoonshop.
Laura Barron is a Vancouver-based musician, writer, facilitator and community artist, gratefully living and working on ancestral, unceded Coast Salish Territory.
Her 30-year career as a flutist has brought her from the Yukon to New Zealand, including solo appearances with the Boston Symphony Orchestra and several performances at Carnegie Hall. With a doctorate from McGill, she served for 10 years on the faculties of the Universities of OR, WI & N. AZ, mentoring emerging artists, as she continues to do with ICASC's Futures:Forward initiative, exploring songwriting, poetry and other interdisciplinary collaborations in the service of climate justice activism. 
She has always strived for relevance in her work, and harnesses her experience as a performer and teacher in her role as the Founder / Executive Director of Instruments of Change. This Vancouver-based non-profit leads numerous community arts initiatives that engage with incarcerated women in Canada, at-risk youth in India, educators in Zambia, and many other diverse groups. It is in this capacity that she has been able to have her greatest reach and impact, designing experiences that empower underserved and often marginalized individuals to become instruments of change in their own lives as they find their own creative voices.
Laura is also a frequent blogger, most recently about artistic responses to the pandemic, globally, in These Adagio Days. And she brings all of her professional experiences together in her new writing project, Key Changes, a novel based on the healing power of music.
Kristin Gyrlevich Singh is a multidisciplinary community-engaged environmental artist and activist graciously living on the unceded and unsurrendered territories of the Wǝlastǝkewiyik/Wolastoqiyik (Maliseet), Mi'kmaq/Mi'kmaw and Peskotomuhkati.  Her arts practice is dedicated to social change in the areas of environmental sustainability and gender equality.
She is an emerging visual artist and poet as well as a songwriter. Her aim is to foster an interconnected relationship between our waterways, our lands and our people and to inspire others to find harmony within themselves and the environment. Her belief that the message is more important than the medium has led to using all-natural paints, dyes, fungi and bacteria to create biodegradable environmentally friendly artwork. It is with this artwork that she hopes to convey that it is the ideas communicated in our art that foster change that must remain. Alongside this practice, Kristin has worked in the non-profit and public sectors as a board member, volunteer librarian, art therapy leader,  gallery owner, and manager.  She opened Under the Tree Art Gallery in 2020 to give local artists a venue to showcase their work during the COVID-19 pandemic and to help engage the community with art and the environment.
Find more artwork by Kristin Singh at underthetreeartgallery.ca .