These words may bring to mind images of stagnant, slimy and muddy water — but the truth is these different types of wetlands are a huge part of what makes life in New Brunswick so great.
Wetlands are nature's powerhouses. They are teeming with life, from unique vegetation, critters and insects, to frogs, waterfowl and moose — wetlands provide hundreds of species with the ideal habitat to thrive, eat, sleep and raise their young.
Wetlands are key to our way of life in New Brunswick. Let's be honest — we're a rural province full of people who'd prefer to get their feet wet outside in the woods than spend a long day indoors. But you may not realize the important role wetlands play in a healthy forest ecosystem. Well-functioning wetlands provide us spaces for hunting, birding, canoeing, hiking, nature photography and more.
Wetlands protect our environment and our communities. They filter pollution from our water and help clean up the water running off agricultural or forested lands. They keep our homes, villages and communities safe during times of flooding. They protect us from drought by holding water during dry spells. They help slow climate change by absorbing excess carbon pollution.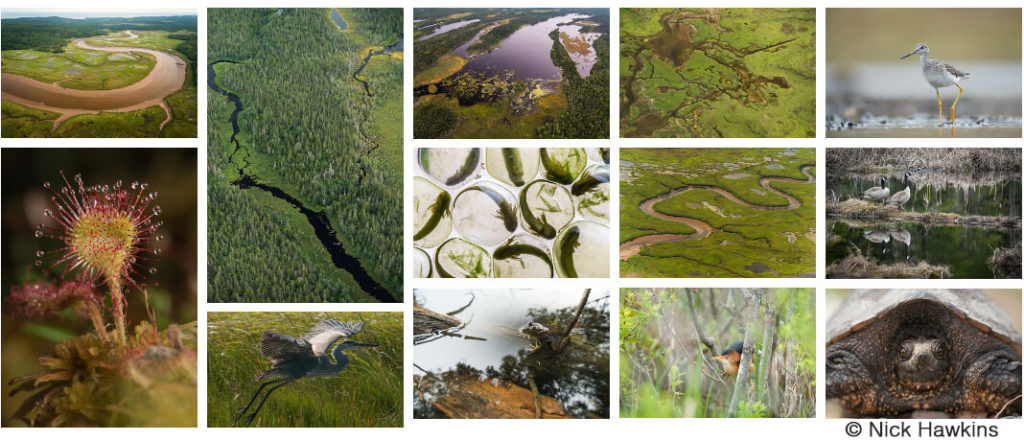 Despite all of this, we haven't always been so kind to our wetlands.
Across Canada, up to 70 per cent of wetlands have already been destroyed or downgraded. We have a bad habit and history of draining wetlands to make space for new developments, often overlooking the value and benefits these wet spaces provide.
Over time, our understanding of just how important wetlands are to our society and to our environment has greatly improved, and we're getting better at protecting these spaces that do so much to protect us.
In fact, one of the first actions New Brunswick's provincial government took in January 2020 was releasing a new, more accurate and robust map of wetlands across the province. This was a big step, one that your Conservation Council and fellow watershed associations long called for, as it will help all of us, from nature enthusiasts to developers to hunters and fishers, better protect these important habitats. Check it out!
Want to give something back to your local wetland?
Take a virtual tour of N.B. wetlands
While nothing can beat the experience getting outside exploring a wetland in person, check out this photo gallery of N.B. wetlands and wetland critters, featuring many photos from our friend, fellow New Brunswicker, and conservation photographer extraordinaire, the talented Nick Hawkins.