In this edition of EcoNews, we invite you to use our helpful letter-writing tool to call on Premier Blaine Higgs to get serious about climate solutions; we share some thoughts from our Freshwater Campaigner about flooding in our changing climate; we share with you our submission to the senate hearing on Bill C-69 about the importance of robust environmental assessments; we bring you photos from this week's rally in Saint John to call on J.D. Irving to stop its citizen-funded glyphosate spray program; and we fill your calendar with lots of awesome upcoming events.
NEWS
Speak up for climate action in New Brunswick!
Premier Blaine Higgs recently told reporters that adapting to our changing climate will be a top priority for his government, yet continues his relentless campaign to revive the Energy East pipeline instead of getting on board with 21st century energy systems. Use our letter-writing tool to let the premier know that words are not enough — New Brunswick needs to get serious about protecting our communities' health and safety in the face of increasingly extreme weather due to climate change. Our pre-written letter includes recommendations for smart climate solutions, but we strongly encourage you to edit freely and add your own personal story of how climate change makes you feel and how it has affected you and your family.
Spillways and elevated highways won't cut it in the face of the changing climate
As New Brunswickers along the Wolastoq (St. John) River face the reality of a second "flood of the century" in two years, our Freshwater Campaigner Kaleigh Holder shares some thoughts about what is really needed to protect our waters and our communities in the face of climate change.
Fundy Baykeeper meets with Fisheries Minister
Our Fundy Baykeeper, Matt Abbott, had a great opportunity to share his love for the Bay of Fundy and how important proposed changes to Canada's Fisheries Act will be for keeping the bay beautiful, productive and thriving to the Minister of Fisheries, Oceans and the Canadian Coast Guard, Jonathan Wilkinson, during an event in St. Andrews this week. The new Fisheries Act passed the House of Commons in June and is currently before the senate. Click the link below to read what we have to say about the new act, as well as links to our submission on Bill C-68 (the bill to amend the Fisheries Act).
Conservation Council to Senators: Ship has sailed on weak environmental assessments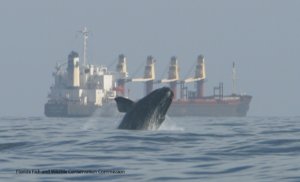 The Conservation Council told the Senate Committee hearing on Bill C-69 in Saint John late last month that the ship has sailed on weak environmental assessments. Scott Kidd, a longtime Conservation Council member with a background in environmental law, told senators that Canadians now expect to participate in important environmental impact assessments and warned that "the less robust these assessments become, the more discord there is" from Canadians. Click the link below to read our full statement and the full text of Kidd's comments at the hearing.

"How many letters will it take?"
The Conservation Council joined New Brunswickers from all walks of life in Saint John yesterday to call on J.D. Irving to stop its citizen-funded glyphosate spraying program on Crown land. Check out some photos from the day and links to a couple of great resources on glyphosate-based herbicides.
Pathway to a Cleaner Future: Eco Buildings Tour – June 1
Reserve your spot while space last! With nearly 50 tickets sold already, our Pathway to a Cleaner Future: Eco Buildings Tour is filling up fast. This is your chance to chat with innovative homeowners that have already made the switch to clean energy solutions, tour real homes that have already been designed with our Maritime weather in mind, and get inspired by all the green success stories happening in your neighborhood. Sign up today!
#FridaysForFuture Canada-wide day of action – Fredericton, May 3
Greta might have been the first one to plunk down in front of her local legislature each Friday to demand we take climate action seriously, but she won't be the last! Join us tomorrow at the New Brunswick Legislature as youth and NBers of all ages continue to show solidarity with the thousands of Canadians taking part in the growing #FridaysForFuture movement!
Conservation Council Fundraiser – All of 2019
We're already seeing success with our first supporter-hosted fundraiser! Longtime supporter Liane Thibodeau created her own series of custom-printed note cards featuring photos from her favourite Sea Dog Cove wildlife encounters. Only two weeks after offering them to friends and acquaintances in exchange for a small donation to your Conservation Council, she's almost sold out and has raised hundreds of dollars to help our work. Do you want to help make our 50th anniversary even more special? Click here for great ideas on how you can help!
Great Trees of New Brunswick Launch Event – May 22
Our Great Trees of New Brunswick Launch Event is coming up at O'Dell Lodge on Tuesday, May 22. There will be a walk in the park at 6 p.m. to see a few of the trees featured in the book. At 7 p.m. we'll have a presentation from authors David Palmer and Tracy Glynn, plus a great talk from photographer Arielle DeMerchant on her process of photographing the Great Trees. Light refreshments will be available and there will be colouring sheets for kids (and adults!).
Fundy Baykeeper's 20th Annual Musquash Paddle – July 13
Back for another beautiful day on the water!  Join our Fundy Baykeeper, Matt Abbott, for a 10-km canoe or kayak paddle down the beautiful Musquash Estuary, the only intact, fully functioning estuary in the Bay of Fundy. After a decade-long effort to protect this precious ecosystem, we paddle the Musquash every year to enjoy it and to celebrate its protection. Stay posted for full details!
Paddlefest 2019 in St. Andrews – May 16
Paddlefest is a music and outdoor recreation festival that takes place each year in the quaint seaside community of St. Andrews. Drop by this four-day festival that combines music, art and recreational and nature activities such as canoeing, kayaking & beach clean-ups for a long weekend of fun for music lovers and adventure seekers alike! Click here for more details.
Helping the Nashwaak Watershed increase flood resiliency – May 22 & May 31
Help the Nashwaak Watershed Association improve this beautiful watershed's flood resiliency by participating in a pair of upcoming tree planting days.  All volunteers are welcome. Please register in advance by email: info@nashwaakwatershed.ca. Find more details on their Facebook page.