As municipalities in the Greater Moncton Area consider a ban on single-use plastic bags, the Atlantic branch of the Retail Council of Canada supports the move, but says councillors should think even bigger.
Moncton has been looking into a plastic bag ban since a petition was delivered to city council last summer. The Hub City, along with neighbouring Riverview, Dieppe and the solid waste corporation Southeast Eco360 surveyed residents about a plastic bag ban earlier this winter. Preliminary results showed the majority of respondents wanted an outright ban in the Greater Moncton Area.
In January, the retail council weighed in to urge the three municipalities to partner with other cities, towns and villages across the province for a comprehensive provincewide ban.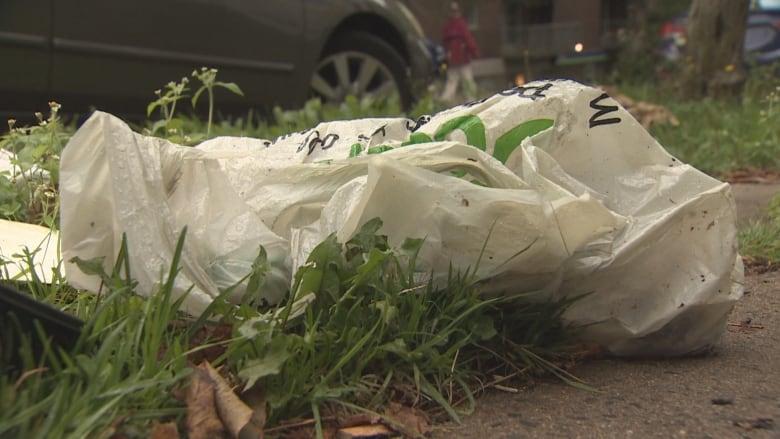 Sobeys has recently switched over from locally made bags that contain 45 per cent recycled content (as depicted) to the now white bags that contain only 15 per cent recycled material. (Paul Palmeter)
Jim Cormier, the retail council's Atlantic director, told CBC News that a provincewide prohibition would be easier on larger retailers, ensuring the details of a ban would be the same from city to city.
"If you can harmonize to the greatest extent possible with what your neighbours are doing it makes businesses move a lot more smoothly," Cormier said, noting Prince Edward Island will become the first province in Canada to enact a province-wide ban when its Plastic Bag Reduction Act comes into effect on Canada Day 2019.
An independent poll conducted in spring 2018 found that more than 70 percent of respondents in Moncton, Fredericton and Saint John are fully in support of a ban on single-use plastic bags.
Minister Carr: conversation is key
Jeff Carr, New Brunswick's Minister of the Environment and Local Government, told CBC Information Morning that he is looking at legislation to reduce or ban single-use plastic bags in the province.
Carr said right now he's watching how P.E.I. is approaching the issue and will use their experience to develop the best policy for New Brunswick.
"Let's get a really good dialogue going from a lot of different angles and a lot of different perspectives on what it means to reduce our use of plastic bags, reduce our use of anything that goes to the landfill that shouldn't," Carr said. "The way our society is going now … we have to be more environmentally friendly conscious."
Other cities, businesses already taking action
The growing momentum around the push to #BeatPlasticPollution has some businesses in N.B. already taking action. Moncton's James Gate restaurant banned plastic straws in September 2017, Fredericton's Milda's Pizzas and More recently started encouraging customers to bring a re-usable takeout container or pay an environmental fee (which Milda's is generously donating to your Conservation Council), and new businesses are popping up to help people find alternatives.
Governments are acting, too. The United Kingdom recently announced its plan to ban the sale of all single-use plastics by as early as this year, and is asking members of the Commonwealth to follow suit. While Canada hasn't committed to a full ban, used its G7 presidency in 2018 to make ocean protection and plastic pollution in the ocean the focus of the world's major economies.
In January 2018, Montreal became the first major Canadian city to ban plastic bags. Victoria, B.C., joined them on Canada Day 2018. Halifax is also investigating a citywide ban, meanwhile the head of the Federation of Nova Scotia Municipalities has said if Halifax passes its by-law then the 10 biggest municipalities in Nova Scotia will join.
What's the problem?
We have a plastic problem in Canada. In our country alone, nearly 90 per cent of plastics end up incinerated or in our landfills, lakes, parks and oceans. There, they contaminate our cherished natural spaces, kill wildlife, and leach toxic chemicals.
In the fall of 2017, our Fundy Baykeeper spoke to media outlets across the world about the growing problem of plastic pollution when a lobster with a Pepsi can logo imprinted on its claw was caught in the Bay of Fundy — a stark example of the staggering amount of garbage collecting in the ocean.
A new-found link between plastic bags and climate change: study
Recent research also suggests a previously unreported threat from plastics. Montreal-born oceanographer at the University of Hawaii, Dr. Sarah-Jeanne Royer, has demonstrated that polyethylene gives off greenhouse gases just by being exposed to sunlight. Dr. Royer was particularly concerned with low-density polyethylene (or LDPE).
LDPE is the inexpensive plastic used to make softer, flexible plastics. This includes items like Saran wrap, six-pack rings, or single-use plastic bags (its most common use). LDPE's low density (which a density range of 0.917–0.930 g/cm3 classifies it as such) is caused by its chemical formation – which has extensive branching. This branching leads to less tightly packed molecules.
"LDPE produced the largest amounts of CH4 [methane] and C2H4 [ethylene], probably due to its weaker structure and more exposed hydrocarbon branches" Dr. Royer says in her research, which was published in the journal PLOS One in August 2018.
Dr. Sarah-Jeanne Royer is currently doing a post-doctorate on marine debris at the International Pacific Research Center at the University of Hawaii. (About Sarah-Jeanne)
She says ambient sunlight is all that is needed to breakdown polyethylene and emit significant amounts of the gases. Dr. Royer's main concern is with how this happens at an accelerated rate over time; the starting point of emission was at 152 days for LDPEs.
Recommended links