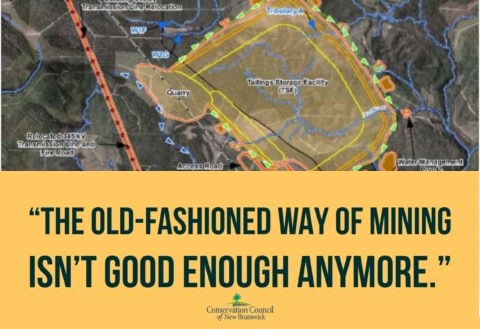 Our Executive Director, Lois Corbett, spoke to CBC New Brunswick about the long-delayed Sisson Mine proposal on July 24.
As the CBC's Bob Jones put it:
It's been a tough year for Northcliff Resources Ltd., the company behind a long delayed tungsten and molybdenum mine development known as the Sisson project in central New Brunswick.

Its president quit, its stock fell, prices for its minerals have melted and now the company is in danger of failing to meet a requirement of its provincial environmental approval.
You'll remember that Northcliff received conditional environmental approval from the province in December 2015—one of those conditions being a requirement to break ground on the project, a 189-square-kilometre site including an open pit metal mine and a risky tailings pond in the heart of the pristine Nashwaak watershed, within five years. Failing to start the project within five years means the project must undergo a new environmental impact assessment.
Jones reports that Northcliff has asked the province to extend the deadline so it can avoid triggering another environmental review.
A government spokesperson told Jones that the Department of Environment and Local Government is considering the request and will make a decision in due time.
Corbett says it is important that the government ensures all voices are heard as it makes that decision. She noted that time limits are common in environmental assessments because of changing environmental conditions and technologies. She said she would expect that First Nations communities and people living in nearby communities from Napadogan to Stanley, Taymouth to Marysville, are consulted before any extension is granted.
"It's a pretty standard clause in any environmental impact assessment approval in the world," said Corbett. "It's important to have everyone involved."
Read more about the proposed Sisson Mine and the risk it poses to our environment and downstream communities here.