In this edition of EcoNews, we invite you to join us for an historic film on controversial spraying in New Brunswick's forests; we offer you a free passport to a low-carbon future with our upcoming N.B. EcoHomes tour; share a win-win opportunity for you to get some sunshine and fresh air while helping our struggling honeybee population; bring you an update on measures currently underway to protect the critically-endangered North Atlantic right whale; give you a heads-up about a special campaign for World Oceans Day next week; introduce you to the stellar team of young people working to save the world at Conserver House this summer; and, we invite you to attend an important speaker series on mining and clearcuts in N.B.
Take part in our EcoHomes tour, then take advantage
of NB Power's new energy efficiency programs
Need some inspiration before you take advantage of the province's new series of programs to make it easier for homeowners and businesses to lower their carbon-footprint while saving money on  energy bills? Take part in our free Passport to a Low Carbon Future EcoHomes Tour coming up next weekend — Saturday, June 9 — where you can meet and learn from homeowners in southern New Brunswick who have already made the transition. Register today to secure your spot!
Bees are in trouble — here's what you can do to help!
Bees never get a break, do they? If neonicotinoids weren't enough, now our honeybees are having a tough time finding food this spring. Beekeepers are calling on New Brunswickers to help reduce the strain our bees are experiencing in the wake of a drawn-out winter that left 30 to 80 per cent of some colony populations dead. Here's what you can do to help!

Beating plastic pollution: Vancouver becomes first city in world with zero-waste strategy
Responding to the growing calls for an end to plastic waste in our oceans, Vancouver has raised the bar for cities around the world by becoming the first city in the world to implement a zero-waste strategy that bans single-use straws, foam cups and take-out containers. Read more, plus tell us what you're doing to #BeatPlasticPollution at home and at work!
Endangered North Atlantic right whales return to N.B. waters
Twelve North Atlantic right whales have been spotted in the Gulf of St. Lawrence, the same busy channel where the critically-endangered species suffered catastrophic deaths last summer. Mandatory speed restrictions are already in place for large tankers, while 15 fishing zones have been closed to protect the whales.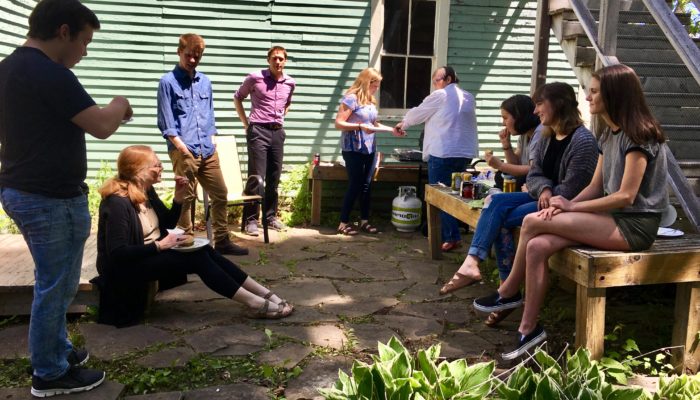 Meet our summer team of young people working to change the world!
We are thrilled to introduce you to our team of bright, enthusiastic and talented young people joining us at Conserver House this summer. We hope you'll stop by 180 St. John St. to say hello!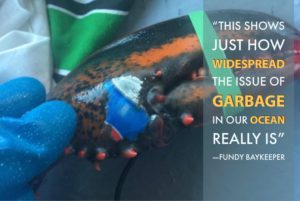 Finding solutions to plastic pollution on World Oceans Day
World Oceans Day is coming up on Friday, June 8 and this year's focus is finding solutions to the plastic pollution littering our beautiful oceans and coastlines. Celebrate with us by tuning in to our Facebook Page for a special campaign. In the meantime, here's a throwback to last fall when our Fundy Baykeeper spoke to media from around the world about the 'PepsiLobster' caught off the coast of Grand Manan — and what the incident says about the health of our oceans, including the Bay of Fundy.
Film screenings in June: 40th anniversary of Neal Livingston's Budworks, plus 100 Short Stories
Join us for a pair of film screenings with award-winning independent filmmaker Neal Livingston on June 12 and June 13, including the 40th anniversary screening of Budworks, a film about the controversial, decades-long budworm spraying program in New Brunswick, and Livingston's latest film, 100 Short Stories, an inspiring film about the struggle against gas fracking and in support of renewable energy in Cape Breton. 
Event: challenging mines and clearcuts 
Find out why so many people are concerned about clearcuts, herbicide spraying and the Sisson open-pit mine proposed in the heart of the Nashwaak watershed at an upcoming guest speaker series with Wolastoqiyik water defender Ramona Nicholas and your Conservation Council's Forest Conservation campaigner, Tracy Glynn, at the Abbey Café on June 6 at 7 p.m.