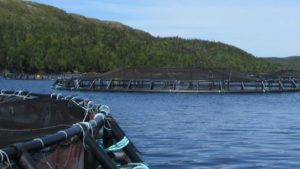 Our Fundy Baykeeper says the history of illegal activity in New Brunswick's aquaculture industry should be addressed by improved regulations and robust enforcement oversight as the provincial government considers changes to the Aquaculture Act.
Matt Abbott submitted preliminary comments on aquaculture reform on behalf of the Conservation Council's Fundy Baykeeper program to the provincial government on Thursday, Feb. 27.
Since the beginning of salmon aquaculture in New Brunswick, the Conservation Council has pushed for a robust regulatory framework to ensure the industry is sustainable, does not degrade the Bay of Fundy's ecosystem, and is in harmony with other economic, social and cultural activities on New Brunswick's marine waters.
The provincial government is considering potential amendments to the Aquaculture Act. Read Abbott's submission and accompanying document.
Our Fundy Baykeeper continues to work with the provincial government and marine stakeholders on this important file. We will bring you updates in this space.
Recommended links