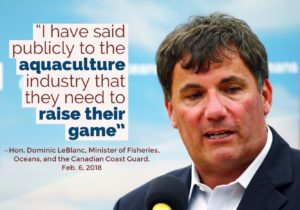 That's what our Fundy Baykeeper, Matt Abbott, told reporters after it was revealed in Saint John provincial court Tuesday that a St. George salmon farming company had deliberately used an illegal pesticide last summer.
The company, Northern Harvest Sea Farms, pled guilty to violating New Brunswick's Pesticides Control Act on two occasions last July. It admitted to using a pesticide illegally in an attempt to stop a sea lice outbreak at its salmon farm off Head Harbour on Campobello Island.
The pesticide, Salmosan 50 WP, can kill lobster and other crustaceans. It was applied near the site of a lobster pound, threatening local fishermen's catch and their livelihoods.
Northern Harvest Sea Farms was fined $12,000 for the offence, which Maria Recchia, president of the Fundy North Fishermen's Association called "a slap on the wrist" and a "cost of doing business."
Speaking to the New Brunswick Telegraph-Journal, Abbott said the case exposes "a significant failure" on the provincial government's part to effectively regulate and enforce aquaculture operations in the Bay of Fundy.
He said salmon farms in the bay are allowed to be so dense with fish that using pesticides to control disease outbreaks has become a widespread seasonal practice.
"Pesticides are always the backstop. It just becomes more clear to me every year that pesticide use is just built in. It has to be done to continue the way they operate," said Abbott, who likens salmon farming in the Bay of Fundy to industrial-scale farming on land.
Speaking to the CBC, Abbott said he takes issue with the Crown's statement in court that there was no evidence of any nearby lobsters being harmed by the illegal pesticide use.
"To have the Crown or anyone else claim that there was no harm done from these pesticides is really quite shocking," Abbott said. "Dead lobsters don't crawl into traps. This offence occurred outside lobster season."
Bonnie Morse of the Grand Manan Fishermen's Association told CBC the case also highlights the lack of effective penalties against companies who break the law.
"I think any time there's a fine that's a deterrent to illegal activity, it should be an actual deterrent to the activity," Morse said.  "When you're looking at $1.5 million worth of fish, their actions speak for themselves."
Prior to the case going to court, Abbott told reporters this was the first-ever time that he was aware of charges being laid against an aquaculture company under provincial regulations relating to pesticide use.
The case comes just weeks after Canada's Environment Commissioner, Julie Gelfand, issued a report on aquaculture operations in Canada, concluding that the federal government is failing to manage the risks associated with fish farming, and failing to effectively regulate and enforce operations in Atlantic Canada.
In September 2017, the Baykeeper joined a retired Environment Canada employee and East Coast Environmental Law in calling on the federal government to enforce regulations against aquaculture operators who have been proven to have violated specific regulations.
The Northern Harvest Sea Farms case is the second time in five years that a New Brunswick aquaculture company admitted to deliberately using an illegal pesticide in the Bay of Fundy. Kelly Cove Salmon, a subsidiary of Cooke Aquaculture, which operates the majority of the roughly 100 open net-pen fish farm sites in the Bay of Fundy, was charged under the Fisheries Act in 2011 for the illegal use of cypermethrin that killed hundreds of lobsters in nearby traps and holding areas. The company was required to pay $500,000 in fines and payments, the largest penalty ever levied under the Fisheries Act in New Brunswick and among the largest ever levied in Canada.
Recommended links: