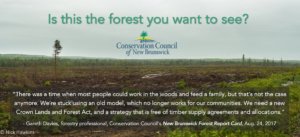 A major review of forestry in Nova Scotia offers a blueprint for developing an 'ecological forestry plan' in the Bluenose Province — and containing many a lesson for New Brunswick's old-fashioned approach to forest management.
The report, carried out by University of King's College president Bill Lahey and presented to the provincial government last week, calls for a reduction in clear-cutting, more selective cutting, and stronger protection of ecosystems and biodiversity throughout the province.
"Ecological forestry's objective is not to protect the environment by eliminating or prohibiting forestry," Lahey said in the report. "It seeks to combine conservation of nature with a productive and profitable forest industry."
The "triad model" would see a total ban of harvesting in parks, nature reserves and other designated wildlife areas, while dedicating some areas to high-production forestry, leaving remaining forest to be managed by a range of ecological conservation, and commercial forestry approaches.
Lahey told reporters he sees no reason to abandon a key recommendation of the 2011 Natural Resources Strategy, which set a target of bringing clear-cutting down to under 50 per cent of all logging in Nova Scotia.
His report says about 80 per cent of wood harvested in Nova Scotia is done through clearcutting, with about 90 per cent done on private land, and 65 per cent on Crown land.
Lahey is calling for stricter ecological management on Crown lands, which make up 30 per cent of the province's forests. Reduced clear-cutting on Crown land would benefit and provide more fairness to private woodlot owners, because mills would have to buy more lumber from private woodlots.
"My conclusion is this is better than the status quo, where not enough ecological forestry is happening on Crown or private land," he told the CBC.
Many of the recommendations in Nova Scotia's ecological forestry review  are directly applicable to forest management in New Brunswick.
Significantly reducing clear-cuts (and thus weakening the case for widespread use of glyphosate-based herbicides in the Crown forest), legislating targets for increased selective cutting, adding new protected areas, and providing more fairness and opportunity for private woodlots owners would go a long way toward addressing the failures of New Brunswick's old-fashioned approach to Crown forest management..
In 2015, Auditor General Kim MacPherson reported that about 80 per cent of all the wood cut from Crown forests in New Brunswick over the past two decades has been harvested by clear cut. She said numerous studies and recommendations calling for a reduction of clearcutting in Crown forests have been ignored by ministers and officials over the past decade.
MacPherson recommended a drop in the amount of clearcuts on Crown forest, saying selective and partial cutting methods are recognized as the best management practices.
As Nova Scotia prepares a response to Lahey's ecological forestry report, New Brunswick would do well to heed the recommendations for  developing a modern, sustainable forest management strategy that benefits all New Brunswickers.
Recommended links: