In this edition of EcoNews, we bring you the online map, recently released by government and the forestry industry, showing where our Crown forest will be sprayed with glyphosate-based herbicides, and we welcome you to use our letter-writing tool to let your MLA know you want this unnecessary practice to stop; we give you one more chance to add your voice to the growing call for a strong Canadian action plan to save the critically-endangered North Atlantic right whale from extinction; we bring you a new climate action video fitting for these sticky summer days; and, we share some recent media hits, including an inspiring podcast with our Dr. Louise Comeau.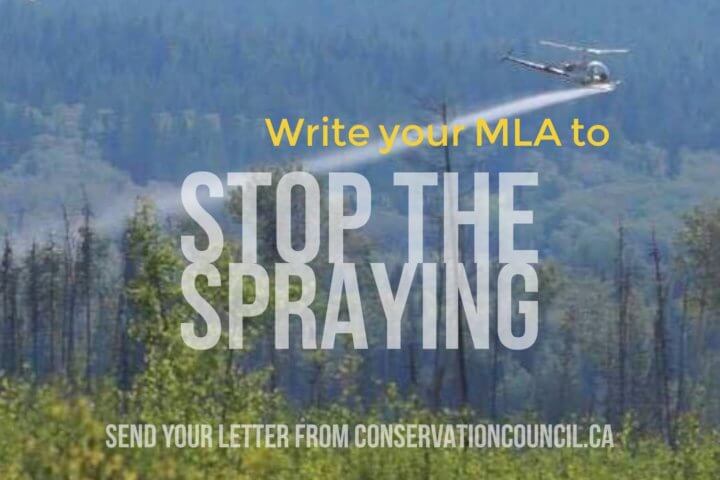 Where our forest is being sprayed this summer
The map showing where large swaths of Crown forest will be sprayed with glyphosate-based herbicides by large forestry companies this month and next is now available online. Our team is poring over the map to help New Brunswickers identify the major spraying hotspots this summer. Want this old-fashioned and unnecessary practice to stop? There are a couple things you can do right now. Head to the link below to use our letter-writing tool to call on the provincial government and your MLA to stop the spraying. You should also check out our friends at Stop Spraying New Brunswick, who have a new signage campaign to pressure government to act, as well!
The majestic North Atlantic right whale needs your help
Citizens have three days left to let the Canadian government know we want an action plan to save the critically endangered North Atlantic right whale from extinction. Earlier this year, the federal government released an action plan for right whale recovery that was sorely lacking—its objectives were based on outdated science, there were no clear and specific targets for reducing rick from human activities like ship strikes, and it focuses on the cost of action rather than the benefits of saving this species in our waters. The public has until Aug. 9 to weigh in on the plan. We're partnered with Oceans North, Ecology Action Centre and the Canadian Wildlife Federation to make it easier for you to have your say. Follow the link below and use our letter-writing tool to speak out for the beautiful right whale!
[arve url="https://www.youtube.com/embed/T0ukiidZNgc" /]
Beat the heat at our new climate action hub!
Yesterday marked Fredericton's 18th day this year with a humidex equal to or greater than 35 C — two more sticky scorchers to go before breaking the existing record of 19 days set in 1988. With the heat we've been feeling all across the province, it's not hard to imagine a new record will be set. The heat has us all looking for relief, but did you know these increasingly hot summer days can have big consequences for public health and the local swimming holes we love? Check out the newest video in our For The Love of New Brunswick climate action series above, then head to the link below to watch more videos and explore climate solutions in our new climate action hub.
We work hard to make sure a strong environmental voice is heard in the New Brunswick print, radio and television media. Here are the latest stories Conservation Council staff have been called upon for expertise, analysis and commentary:
July 24, 2020 — Love Motivates Change: We'll start our media roundup with this must-listen podcast from Promethea Rising about our Dr. Louise Comeau's 30+ years playing an instrumental role in shaping Canada's climate policy. In the end, Louise's message to activists and citizens alike is simple, yet profound: love, and a deep caring for our planet, is what really moves us to action and change. Listen here.
July 25, 2020 — "It's important to have every involved": Our Executive Director, Lois Corbett, spoke with CBC NB about the beleaguered Sisson Mine proposal this week. The company behind the proposal is looking for an extension from the province on its looming deadline to break ground on the project. Corbett tells the CBC that it's important that government consult with First Nations communities and citizens living nearby and downstream the massive proposed open pit mining operation before any decision is made.
July 30, 2020 —Big love for St. Croix/Skutik River: We bring you coverage of our recent survey in the St. Croix region showing an overwhelming 87 per cent of residents support NB Power's planned decommissioning and removal of the Milltown Dam, which would allow a 15 kilometre stretch of the St. Croix/Skutik river to flow freely again.
Aug. 4, 2020 — Low, warm water stresses river life: Lois Corbett speaks with the Fredericton Daily Gleaner about the unusually low water level in some rivers this summer, and the stress that can cause to river life, including exacerbating the growth of cyanobacteria.
Thank you for reading.