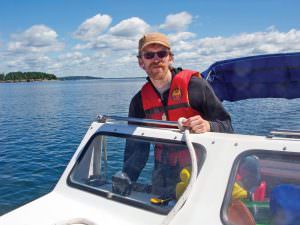 Yesterday morning, Matt Abbott, Fundy Baykeeper for the Conservation Council of New Brunswick (CCNB) and one of the speakers presenting at the National Energy Board panel sessions on the Energy East pipeline was a guest on CBC's Information Morning with Stephan Wedd.
During the interview, Abbott raised a number of concerns about Energy East pipeline the Conservation Council would address, including:
How will TransCanada factor climate change and the Paris Climate agreement into their market projections?
How does TransCanada plan to deal with the pipeline's over 300 water-crossings, especially in light of the severe storms New Brunswick has recently experienced as a result of a climate changing?
How would the company deal with the special conditions in the Bay of Fundy with respect to risks from oil spills?
"It's really important to realize that the economic drivers of this province and what provides those stable long-term economic opportunities have been ecosystems like the Saint John river and the Bay of Fundy," said the Fundy Baykeeper.
"You can't do anything in this world responsibly without factoring in climate change.  Really at the heart, the NEB has been asked to make recommendations determining whether this project is in the public interest, and you can't determine the public interest without considering climate change."
Listen to the full interview here.