Punctuation, a 38-year-old female, was spotted floating Tuesday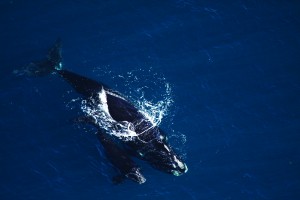 Another North Atlantic right whale has been found dead, floating in the Gulf of St. Lawrence.
"This is deeply troubling," said Matt Abbott, Fundy Baykeeper and our Marine Conservation Director. "Each individual we lose is a major hit to this vital species." 
An estimated 411 of these whales are left in the world. 
According to a recent CBC article, Punctuation, was seen floating in the gulf last Tuesday. The 38-year-old whale, named for the scars on her head, had birthed at least eight calves already. 
"The loss of a female is particularly devastating," Abbott said. "It's really them who can bring the population numbers back up."
"It's a devastating hit to this already struggling population," the Marine Animal Response Society wrote on Facebook Saturday. "Not to mention to our incredible research community who've been watching her and her children for years and working so hard to protect them."
MARS said calmer weather was needed before the carcass would be brought to shore for a necropsy. The Department of Fisheries and Oceans is tracking the animal, however.
Wolverine, a younger male, was found dead earlier this month. While the necropsy on the nine-year-old was inconclusive, Fisheries and Oceans stated it "did not reveal evidence of fishing gear entanglement or vessel strike."
Recommended links:
Dead North Atlantic right whale spotted in Gulf of St. Lawrence
Canada is once again a world leader in fisheries management and protection