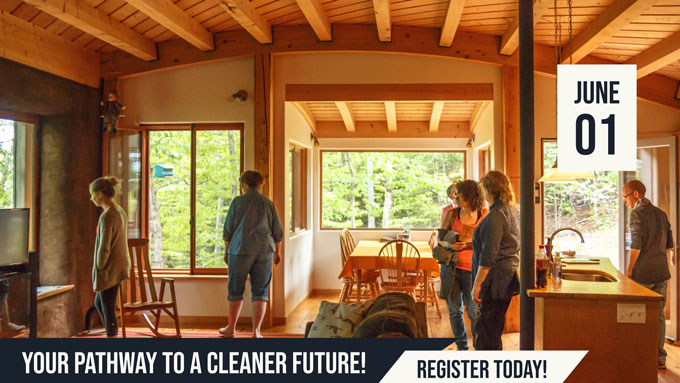 Ever wonder what you can do to lessen your personal carbon footprint?
Here is your chance! Get inspired and find out what innovative homeowners and business owners are doing in your neighborhood by signing up to participate in our Pathway to a Cleaner Future: Eco Buildings Tour, scheduled from 10 a.m. – 4:30 p.m. on Saturday, June 1, 2019.
All home and business owners will be there to answer your questions about how they went about reducing their carbon footprint and explain the challenges they encountered along the way. Join us at the end of the day for snacks, conversation and information at a Meet and Greet event.
Click here to see our growing list of destinations!
SAINT JOHN AREA
The Terra Berma project, a project that demonstrates sustainable off-grid living built with rammed earth construction, solar and wind power, green roof, and permaculture garden (Kingston Peninsula);
a timber frame passive solar, straw wall, earth berm home with a straw roof (Quispamsis);
an off-grid solar house whose owners also have an electric vehicle (Kingston Peninsula);
a high school with solar panels and a greenhouse (Hampton)
an off the grid artist's cabin in the woods (Kingston Peninsula);
the largest rooftop solar installation of its kind in the City of Saint John;
an animal hospital with solar hot water heating and solar panels where all Ecohealth is an important part of their mission (Saint John);
an electrical utility where you can see solar energy being produced in real time (Saint John)
and more to be announced…
FREDERICTON AREA
A Passive House retrofit home built in 1916 that's heated with a geothermal preheat/precool system and just one large baseboard heater (Gagetown);
a lakeside home and craft brewery that runs on 100% renewables, consisting of an 18-panel PV solar system and a small wind turbine (Harvey);
an energy efficient one-level retirement home designed with passive solar that's heated with an in-floor hot water (hydronic) system and a small efficient wood stove (Stanley);
a new build, four-season greenhouse built with a "climate battery" geo-thermal heating and a home aquaculture system (Durham Bridge);
a grid-tied energy efficient home built using Passive House principles that's heated/cooled using a geothermal Loop, Heat Recovery Ventilator, heat pump, Thermodynamics Solar Domestic Hot Water System and an energy monitoring system, that boast an annual heating bill between $60-$140 (Douglas);
a new build, Passive House built with super-insulated 18" walls and heated with a single 9000 BTU air source heat pump that boasts an annual energy bill under $250 (Lincoln);
a passively heated two-storey sun porch made with recycled materials, added thermal mass, and heating system called a thermal air syphoning unit (Fredericton);
a four-season greenhouse built as part of the Ville Cooperative's Agriculture program for year-round food production that features a "climate battery" that uses the natural temperature of the earth to heat and cool (Fredericton);
an energy-efficient retrofit home that includes the addition of a heat pump, wood-burning fireplace with heat dump, heat pump water heater, LED lighting and solar panels (Fredericton);
and more to be announced…

GREATER MONCTON AREA
New Brunswick's first and only 'solar farm' at the Auenland Dairy Farm outside Sussex, which recently expanded its solar herd to 400 panels,
A grid-tied home with passive solar, solar hot water and solar air to air in Moncton
An old bungalow converted to a brilliant Passive House using mostly materials from the homeowners' land, complete with a 10,000 square-foot garden and beehives, in Browns Yard.
A high school with a spread of 64 solar panels, part of the province's solar energy pilot project, plus a greenhouse built by more than 50 students concerned with food security in a changing climate, in Hampton.
and more to be announced…
Did you know? Our Eco Homes Tour was so successful in 2018 that we have expanded our tour this year! In addition to homes in in Saint John and the Kingston Peninsula areas, there will be a second tour in the Greater Fredericton Area (Gagetown, Harvey, Fredericton, Douglas, Stanley). We also have Auenland Farm, New Brunswick's first solar farm outside of Sussex and Moncton and Sussex hosts participating in the tour this year.
You can find more detailed information about each of our host properties complete with photos on our Facebook Events Discussion Page.
If you're interested in being a part of the tour, please contact us at info@conservationcouncil.ca.
WHEN & WHERE
June 1st, 2019
FREDERICTON AREA: 10AM - 4:30PM
SAINT JOHN AREA: 10AM - 4:30PM
MONCTON AREA: 10AM - 1:00PM
Don't miss our Meet!
Saint John Area: All tour participants are invited to join us at Elmhurst Outdoors for our Meet and Greet starting at 5:30.
(Click here for directions)

Fredericton Area: All tour participants are invited to join us The Ville Cooperative  in the Greater Fredericton Social Innovation Community Room at our Meet and Greet starting at 5:30. (Click here for directions)
ticket price $10
*Note: All proceeds from our Eco Buildings Tour will go towards our Climate Change and Energy Solutions Program. Thank your for your continued support!
TAKE A SNEAK PEEK!
REGISTRATION IS NOW CLOSED!