Green Energy: Making Informed Choices
Making the right energy choice for you.
Taking Steps toward a Sustainable Future
The Conservation Council of New Brunswick would like to help you make informed choices about the energy you use. We've created a series of fact sheets and videos to answer these and other questions.
Our goal is to get you the information you need to make decisions about the right energy choice for you.
New Brunswick families using renewable energy
Solar power: One family's experience with reliability and security
An Alternative Approach to Renewable Energy
Living off-Grid: A Leap of Faith
Green Energy: A Resource Guide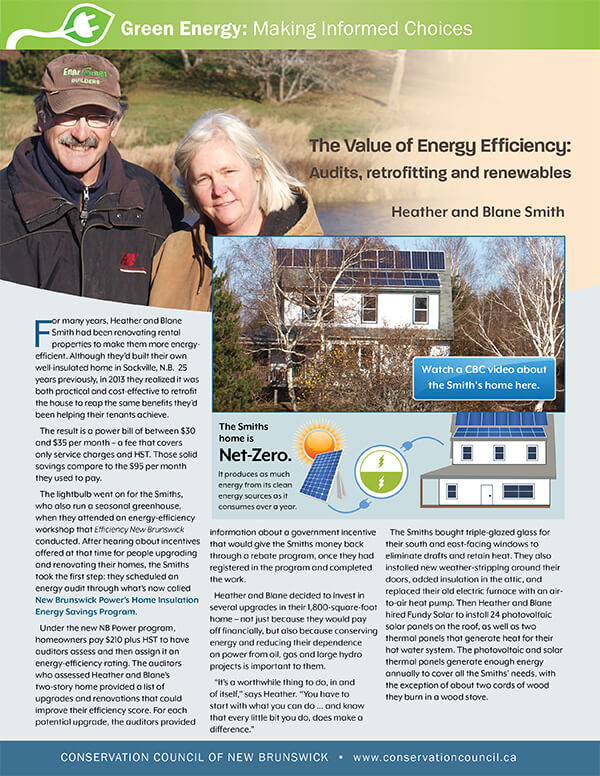 The Value of Energy Efficiency
Taking Steps towards a sustainable future
What is renewable energy?
Renewable energy is energy that can produce heat or electricity from readily available natural resources that replenish themselves within our lifespans. These resources include sunlight, wind, moving water, and heat from the earth. Renewable energy is sustainable because it renews itself. It does not rely on burning oil, gas, or coal, which generate greenhouses gases that contribute to climate change.
Examples of renewable energy sources include: wind turbines, solar panels, passive solar heat, small-scale hydro power, tidal power, geothermal power and biomass, which is fuel generated from organic material, including plants and waste wood or pulp residue.
"The sun's energy, wind, water and the heat from the earth are all ways that you can get electricity and heat, and they are renewable because the sun won't ever go away … [and the] same with the wind and moving water and the heat from the inside of the earth," says Max Mathies, the Renewable Energy Coordinator at Renewables NB, an online centre that promotes energy efficiency and renewable technologies throughout New Brunswick.
Does New Brunswick have any sources of renewable energy?
New Brunswick is comparable to Germany, which is one of the leaders in the world in terms of the amount of sunlight available for solar power. As a coastal province, New Brunswick also has access to tidal and wind power sources. New Brunswick's rivers are also potential sources for small hydro renewable energy projects.
To help find renewable energy sources in your part of the province, the government of New Brunswick has produced several atlases:
Will renewable energy work all year round?
What about solar power in the winter or when it's dark? What happens to wind power when there's no wind?
Solar and wind powered electricity are described as "variable" because availability changes depending on whether the sun is shining (nighttime or cloudy days) or whether the wind is blowing. Renewable energy can power our lives directly or indirectly. Larger scale producers (think wind or solar farms or bio-energy plants) generate electricity which is sold to a utility like NB Power. Or it can be installed on or near your home or business to supply you directly. When we install our own renewable energy source we have the option of going off-grid or staying on the grid. Whether it is the utility or a homeowner generating the electricity with renewable energy, the "variability" needs to be managed. One way to manage variability is to use batteries.  When the sun is shining or the wind is blowing, a battery can store excess energy you produce for later use. A battery system can allow a homeowner to go off the grid (without any connection to the utility) or to stay on the grid but have back-up in times when there is a power outage. With batteries, solar can be reliable even when the sun isn't shining or when the wind is not blowing. Many homeowners who use solar or wind power also install a backup generator in case of emergencies.
Here's more detailed information about how wind power works, and a consumers' guide to how solar power operates.
I want to put solar panels on my roof, do I have to go off-grid?
The answer is no. You can install a solar power system and generate electricity through solar energy whether or not you are connected to the provincial electrical grid.
If solar panels are installed at your home, you can use them to generate solar power for your household, and feed extra power back into the provincial grid through New Brunswick's net metering program. The province will replace your existing home hydro meter with a special meter. The new meter will track any electricity you use from the provincial grid and any excess electricity you generate and feed back into the provincial system. You are then only billed for the difference – the "net" amount of electricity you use.
Read our case study about the Embergers, who installed solar panels and remain connected to the provincial grid. It also explains how net metering works.
And check out the Hannigans' case study. They installed a combination of solar and wind power to live off-grid.
Are renewable energy technologies reliable?
Like a car, or an appliance, renewable energy technologies have lifespans and may require some maintenance, says Max Mathies of Renewables NB. It's important to know what the lifespan of your particular system is. Renewable energy technology lifespan generally ranges from 15-30 years.
Solar panels have no moving parts, have a long system warranty, and require little maintenance, says Jason Roach of Clear Power Solutions, which is one of several companies in New Brunswick that sell solar energy systems. "We're seeing more and more companies pop up that are supplying these types of systems," says Roach. Most solar equipment comes with a 25-year warranty, says Mark McCann of Fundy Solar. "Any well-designed system is very reliable," he adds.
By contrast, wind turbines have moving parts that are constantly spinning. "So if you buy something with moving parts you can expect it to break down, sort of like any appliance," says Mathies.
"If it does break down, calling the installer who initially installed it would be your best bet," says Mathias. "A lot of the time they will have protection plans or warranties, so if they break in the first few months then you can get them fixed for free, kind of like any appliance of car."
Where can I buy renewable energy technologies?
There are a growing number of suppliers of renewable energy technologies in New Brunswick, including Fundy Solar, Clear Power Solutions, MJM Solar, Energy Systems and Design and Cabin Depot. Other forms of renewable energy include furnaces and wood stoves that burn highly efficient wood pellets. Most hardware stores, including Home Depot and Canadian Tire, sell these stoves and/or furnaces, accessories, and pellets, and you can find local suppliers of pellets.
A Guide to Residential Wood Heating is a Natural Resources Canada resource with information about efficient wood burning.
There is another way to support renewable energy. Check out this case study about a family in New Brunswick who use Bullfrog Power – a program that ensures renewable energy feeds back into the electricity grid without installing the technology directly at home.
How much do these renewable energy technologies cost?
The cost of investing in renewable energies varies depending upon the type of technology and system you use – but the initial cost is "still quite high," says Max Mathies of Renewables NB, and depends on whether you plan to remain connected to the provincial electricity grid, or be completely independent, or "off-grid."
"I'm sure people have seen some of the news stories that solar panels have fallen under $1 per watt, which is great, but keep in mind that's just for solar panels," says Mathies. "If you want a completely off-grid system you'll need to invest in batteries, you'll need to invest in the charge controller and in the inverter and all the other components that go along with that." Some companies offer financing options.
How long is the payback? 
In some cases, investing in a form of renewable energy, such as solar power, provides a return on investment fairly quickly, depending upon the size of your home and the number of panels you install. "We're in the 15-17-year payback range now. That's taking into consideration the cost of the equipment, the installation, and power rates today and what power rates will be in the future," Roach says.
Even before investing in renewable energy technologies, however, the first step any homeowner should take is to invest in energy efficiency.  Installing renewable energy in an inefficient home or building means you would need to buy a larger system making it less cost effective. Think of your home as a system that can use as well as make energy. A home audit can highlight the opportunities to lower energy demand as well as your potential for energy supply.
Are there any incentives?
What are the benefits of using renewable technology?
Outside of the initial investment, the cost benefit of switching to renewable technologies is a lower monthly power bill. For example, installing a solar system that is tied into the provincial grid will result in a monthly power rate of about 12 cents per kilowatt hour or less – at par or cheaper than the current residential power rate of between 12 and 14 cents per kilowatt hour, says Mark McCann of MJM Solar. In addition, through the province's net metering program, you receive credits for any excess energy you generate and feed back into the provincial grid – credits that are applied to your next monthly power bill (although they cannot be carried forward beyond March of the next year).
If you install an off-grid system, self-sufficiency is a major benefit – particularly during power outages. People using solar or wind systems can rely on energy stored in batteries to retain power during ice storms or other weather systems that cause the power to go out.
The other benefit to using renewable technologies is that you are contributing to cleaner air and a reduction in greenhouse gas production that contribute to climate change.
What are the risks of using renewable technology?
Finding a competent installer is one of the risks, according to Mark McCann of MJM Solar. Unlicensed installers have placed rooftop solar panels facing north, rather than south (which is the ideal position), have used the wrong or improperly rated components, or have wired the system improperly.  Homeowners going off the provincial grid will be inspected by NB Power to determine if there are any technical problems before they can join the net metering program.
Wind turbines do involve moving parts, so they are at risk of failing or wearing out. As with solar technology, it is important to choose a competent contractor who can service and repair wind turbines, says Jason Roach of Clear Power Solutions.
Maintenance and servicing are as important for renewable technology as with any other device you rely on, says Max Mathies of Renewables NB. "Like a car, you wouldn't let it sit out in the snow for three or four weeks. You need to make sure that your solar panels or wind turbines are getting properly serviced so that they don't rust or don't have any connection issues so you are maximizing your generation efficiency from them," he says.
How do I hire reputable installers?
Licensed electricians can install renewable energy systems. In addition, the Canadian Solar Institute and the Canadian Solar Industries Association provide certification for installers, so it's worth checking with the individual or company you hire to ensure they are certified, and ask how they have been trained.
Having someone who is certified will help to insure the system is installed at a higher standard and they may be more familiar with solar panels and the best way to wire them compared to someone who is solely an electrician, says Max Mathies of Renewables NB. "It's not to say the electrician will always do worse work than the other one, because that's not true. It's like a person who knows how to do First Aid versus someone who is certified to do First Aid," he says.
As in any trade, when choosing a contractor, referrals from past customers are important. "You need someone with some good experience who's been in the industry for a while," says Jason Roach of Clear Power Solutions. Mark McCann of MJM Solar recommends checking with NB Power for recommendations for someone reliable to work with, who installs many systems, and who they have had good experience with.
"You can generally trust the people that are busy," says McCann.
Will I have to change my lifestyle if I adopt renewable energy?
Unless you plan to install enough renewable energy technology to live off the provincial electricity grid, you don't have to change your lifestyle, says Max Mathies of Renewables NB. You will have to check your system regularly to make sure it's running smoothly, but that is likely the only change required. Homeowners don't need any additional knowledge or understanding about, for example, the inside of a photovoltaic cell on a solar panel or the gear ratio inside a wind turbine. "That's all for the installer and distributors to know and worry about servicing," says Mathies.
And if you are connected to the provincial energy grid, you don't need to buy new appliances or make any major changes with renewable energy, says Mark McCann of MJM Solar.
If you do decide to live off the grid, there is more maintenance and monitoring required in terms of checking systems and batteries.