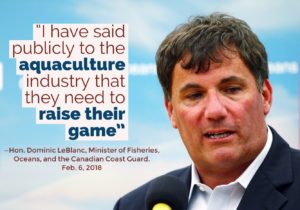 Our Fundy Baykeeper, Matt Abbott, told CBC News he will be closely monitoring an impending court case involving New Brunswick-based aquaculture company Northern Harvest Sea Farms. The company, which has licenses to operate nine salmon farms on the Bay of Fundy, is alleged to have violated section 15 of New Brunswick's Pesticides Control Act, which states: "No person shall use a pesticide in a manner contrary to… the manufacturer's written recommendation as to its use, contained in or on the pesticide container in which the pesticide was contained."
Abbott told CBC the use of pesticides in the bay is concerning, even when used legally by the aquaculture industry. Limited information has been released on the charges to be laid against the company, which also operates a processing plant in St. George.
"They appear to allege potential off-label use [of a pesticide] but at this point that's all we know," Abbott said. "This is the first time I have been aware of charges against an aquaculture company under provincial regulations relating to pesticide use… so I'll be interested to see how it plays out."
Northern Harvest Sea Farms is expected to appear in provincial court in Saint John on May 15.
Kelly Cove Salmon, a division of Cooke Aquaculture, who operate more than 100 salmon farms in Atlantic Canada, faced similar charges in 2011 after lobsters were found dead near several of  its sites in the Bay of Fundy. The company was charged, and plead guilty, to using illegal pesticides. It was required to pay $500,000 in fines and payments, the largest penalty ever levied under the Fisheries Act in New Brunswick and among the largest ever levied in Canada.
Recently, Abbott said that Environment Commissioner Julie Gelfand's April 2018 report on aquaculture operations in Canada reinforced longstanding concerns about the industry in Atlantic Canada. "[Gelfand's] findings, and recommendations, are a clear signal that this industry is severely lacking effective regulation and effective enforcement," he said.
Recommended links: