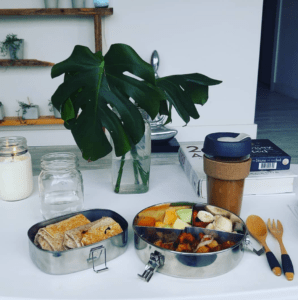 Ez Eco is a Moncton-based pop-up shop which specializes in replacing single-use everyday items with reusable, sustainable alternatives.
For Moncton yoga teacher, 9-1-1 dispatcher, and business founder Shauna Berthe, mindfulness of waste production shed a new light on the staggering amount of garbage that people produce daily. With a family, full-time work, and what seemed like an ever-growing amount of garbage on her curb, she decided to reduce her family's waste by making some simple lifestyle changes.
In a recent interview, Shawna told the Conservation Council, "We started out small, with reusable bags, stopped using frequent disposables like plastic bags, cups, cutlery. I started buying more items in bulk and locally, anything reusable really. Just replacing non-reusable with reusable — not too complicated."
As her interest in eco-conscious items grew, she struggled to find resources available in Moncton to further her reduced-waste lifestyle. The lack of accessibility to eco-friendly products inspired her to create a 'one-stop shop' to supply sustainable, natural and reusable items for those looking to make meaningful change in their lives.
When shopping at Ez Eco, you can be assured that every product will meet at least two of the four following criteria: recycled, reusable, local or biodegradable. Shawna makes an effort to find products that are made locally or in Canada, but will go out of the country for special products if necessary.
The term 'zero-waste' can sound intimidating or far fetched, but Shawna believes that simply opening up to the idea of having other options, and making a few small changes, can have a big impact.
"It's not about all or nothing, it's about making small changes. Recycling, reusing, second hand shops, making little changes. If everybody did that, it would make such a huge difference. It's not about being perfect, not everybody can have their trash in a mason jar like you see on T.V. or the internet. But if everyday families made small differences, it would make a huge difference," she said.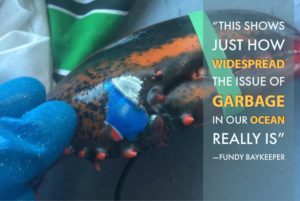 Berthe said recent social movements like the anti-straw campaign have helped broaden her customer base. "When they come in for straws, I can educate them on other options, it really helps. It opens people's eyes up to other options, other things."  
Ez Eco offers a wide range of sustainable alternatives to everyday items including coffee cups, plastic wrap, cutlery and food storage containers. Products can be purchased at pop-up locations, ordered online for delivery, or ordered online and received at designated pick-up locations to lower the environmental impact of shipping and transportation.
Over the past year, Canada has seen some remarkable progress on waste reduction strategies. A recent poll in New Brunswick found that over 70 percent of respondents in Moncton, Fredericton and Saint John are in support of a single-use plastic bag ban.
In January, Montreal became the first major Canadian city to implement a ban on plastic bags. Vancouver has also proven they are working on beating plastic pollution, by implementing a zero-waste strategy that bans single-use straws, foam cups and take-out containers. Moncton isn't far behind either, as its city council is currently working on a plastic bag ban.
Most recently, a bill passed last Friday could make Prince Edward Island the first province in Canada to prohibit single-use plastic bags. The legislation will prevent retailers from providing single-use plastic bags over a transitional period, starting with a bag fee, and gradually phasing them out over the next few years. Retailers will be permitted to sell either reusable or paper bags. Now, the act just requires royal assent to become law in P.E.I –  a huge step in the right direction for beating plastic pollution in Canada.
Don't miss Ez Eco's upcoming pop-ups at Inspire Festival in Moncton on July 17, and Yogafest on the Moncton Waterfront on July 28. Come meet Shawna and explore the variety of sustainable options her store has to offer!
The growing appetite for eco-friendly alternatives to everyday items has the Conservation Council extremely excited for what is to come.
Let's keep the momentum going,
tell us in the form below what you are doing to use less plastic and reduce your waste!
Recommended links: