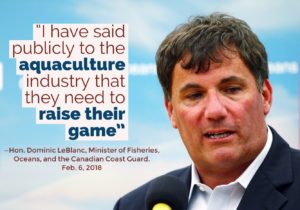 Our Fundy Baykeeper says a new report from Canada's top environmental watchdog reinforces longstanding concerns that the aquaculture industry in Atlantic Canada is severely lacking effective regulation and enforcement.
Julie Gelfand, Canada's Commissioner of the Environment and Sustainable Development, tabled her 2018 Spring Reports on Tuesday, April 24, including a report on salmon farming in Atlantic Canada and the west coast.
Gelfand concluded that the federal government is failing to manage the risks associated with salmon aquaculture. Her key findings include:
The Department of Fisheries and Oceans isn't doing enough to monitor diseases or understand the effect salmon farming has on the health of wild fish stocks;

There is a clear lack of enforcement of federal regulations, particularly in Atlantic Canada, where no new enforcement officers have been hired since 2015 when new regulations came into effect.

The department has not clearly told aquaculture companies the quantity of drugs and pesticides they can use in their operations, and isn't doing enough to confirm the accuracy of drug and pesticide reports submitted by aquaculture companies to the federal government;

There is a clear lack of national standards for nets and anchoring equipment, which Gelfand said is vitally in important in Atlantic Canada, where escapes of farmed salmon and interbreeding with declining wild salmon populations happens more frequently.
"I suggest that the department is at risk of being seen to be promoting aquaculture over the protection of wild fish," Gelfand said at a news conference Tuesday.
On the lack of enforcement in Atlantic Canada, Gelfand said: "Our audit revealed significant deficiencies. It makes me seriously worried."
That's a sentiment shared by our Fundy Baykeeper and many who live and work on the Bay of Fundy. In September 2017, the Baykeeper joined a retired Environment Canada employee and East Coast Environmental Law in calling on the federal government to enforce regulations against aquaculture operators who have been proven to have violated specific regulations.
"Our environment commissioner has delivered an impressive and important report on the state of aquaculture operations, regulations and enforcement in Canada," Abbott says. "Her findings, and recommendations, are a clear signal that this industry is severely lacking effective regulation and effective enforcement."
Speaking to reporters following the report's release, Dominic LeBlanc, Minister of Fisheries, Oceans and the Canadian Coast Guard, said his department is committed to ensuring "all of her recommendations are acted upon and acted upon quickly."
Recommended links: