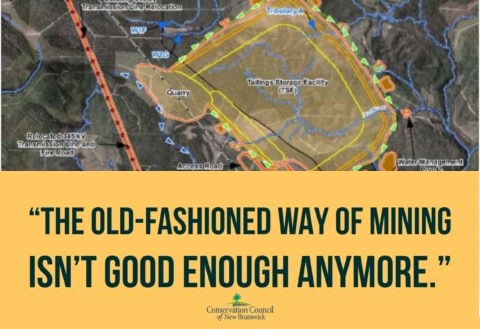 Our Executive Director, Lois Corbett, spoke with several media outlets about the Sisson Partnership's plan to dump mine waste into waterways in the Nashwaak watershed.
The partnership, comprised of Northcliff Resources and Todd Minerals, is applying to the federal government for permission to dump mining waste into portions of fish-bearing waterways, destroying Sisson Brook and significantly affecting parts of McBean Brook, Bird Brook, Lower Napadogan Brook and an unnamed tributary to the West Branch of Napadogan Brook
Corbett explained the process and the impact it would have on the brooks and wildlife in the area to CBC Information Morning Fredericton on March 8, saying "it will have an impact on Atlantic salmon, on brook trout, on American eel – an endangered species – and on depository brooks."
Corbett also spoke with Global New Brunswick and the New Brunswick Telegraph-Journal.
Corbett called for caution and common sense in pointing out that the tailings dam the Sisson Partnership is proposing to hold the mining waste during and after its 27-year operation — which the partnership's documents show would be twice the height and eight times the length of the Mactaquac dam — is similar to the system which failed at the Mount Polley mine in August 2014, devastating the watershed and important sockeye salmon habitat.
She said the independent expert panel of engineers the B.C. government commissioned to the investigate the breach recommended that the best available technology be required for any new mines.
The Sisson application references the Mount Polley disaster but "rejects looking at different alternatives like dry storage in favour of old-fashioned storage measures," Corbett said.
"So that's something people might want to ask questions about — why aren't we looking at better ways to deal with mining waste so that a) we don't have to destroy fish habitat and b) we can rest more easily, not worried about risk to Napadogan River, Nashwaak River in Stanley and ultimately the St. John River if a catastrophe were to happen."
"What I'm hoping is given what we saw come out of the Mount Polley catastrophe that the [federal environment] department may require some dramatic changes to what sort of old-fashioned practices the current proponent is suggesting."
Want to get involved?
You can have your say on the Sisson Partnership's application to damage fish-bearing brooks by submitting your comments to Environment and Climate Change Canada by email until May 3, 2018, to: ec.mmer-remm.ec@canada.ca
Federal government documents related to the Sisson Mine Proposal:
Recommended links: