In this edition of EcoNews, we bring you our primer on blue-green algae after the Department of Health issued an advisory for Nashwaak Lake earlier this week; we update you on the latest news regarding the tragic deaths of north Atlantic right whales off the waters of N.B.; share encouraging news about a community in the Acadian Peninsula that is looking to protect its people from glyphosate spraying; tell you about a new study that says mayors can save big bucks by preserving wetlands; share some photos from recent events, and give you a couple more items to add to your calendar.
NEWS
Blue-green algae watch, summer 2017
The province issued a blue-green algae advisory for Nashwaak Lake on Tuesday, July 25 after lab tests confirmed the presence of a bloom in the lake north of Fredericton. Check out our primer on everything you need to know about blue-green algae blooms this summer — what they are, what causes a bloom, and what you can do to help prevent them from forming.
Eighth right whale death sparks call for "complete review" of shipping lanes
Another north Atlantic right whale has been found dead in the Gulf of St. Lawrence — now the eighth to turn up in the gulf since June 6.  Yesterday (Wednesday, July 26), the Department of Fisheries and Oceans reported a dead right whale had washed ashore in Newfoundland, though it is not yet clear if the carcass is one of the previously spotted deceased whales, or if it is the ninth right whale casualty found this summer in the waters off New Brunswick. In the wake of what marine biologists are calling an "unprecedented die-off" of the endangered species, Jerry Conway, an adviser with the Campobello Whale Rescue Team, told the CBC he wants a complete review of shipping lanes in the gulf where the whales are being found.

Tracadie-Sheila looking at by-law to ban glyphosate
Tracadie-Sheila town council is considering a by-law to ban the use of glyphosate within the municipality. If the town proceeds, it would be the first case of a municipality in New Brunswick acting to protect its citizens from the chemical linked to cancer and a slew of health problems, opening the door for more villages and towns to follow suit.
Mayors who preserve wetlands save big bucks, study finds
A new report says Canada's cities and towns should leave wetlands intact if they want to save money when it comes to damages brought on by flooding linked to climate change. According to a team of researchers from the the University of Waterloo, a fully-functional wetland can reduce the cost of floods by up to 38 per cent.
EVENTS
What the Mount Polley disaster can teach us about protecting the Nashwaak and nearby communities from the Sisson mine
Hear Jacinda Mack, coordinator of First Nations Women Advocating Responsible Mining, talk about the Mount Polley tailings disaster and what it has to teach us about protecting the Nashwaak and people in downstream communities from the Sisson mine. The event takes place at the St. Mary's First Nation Cultural Centre on Aug. 14 at 7 p.m. Click the link below for full details.

Join the Whimbrel's friends for a 5 à 7
The Whimbrel's Friends conservation group is holding a "5 à 7" conference and cocktail event on Monday, Aug. 7 in Inkerman, N.B., in the Acadian Peninsula. Conservation biologist Monica Iglecia and Julie Guillemot of the University of Moncton, Shippagan campus will share their latest work and research on wetlands conservation and shorebird habitat rehabilitation. To register, or for more information, contact  Lisa Fauteux at 888-5271 or at vertsrivages@gmail.com.
Paddlers on the Musquash!
Our 19th annual Musquash Paddle was another tremendous success as many return kayakers and lots of first-time visitors enjoyed a sunny day meandering through the Musquash Estuary Marine Protected Area. This year's event, held July 22, saw more than 50 people join our Fundy Baykeeper, Matt Abbott, to appreciate the sprawling salt marshes, thriving wildlife, and fascinating shipwrecks that make this place so special and worthy of protection. Check out some of the great pictures from the day, posted to our
Facebook page
. Thank you to those who joined us on the water — your support helps us continue our important Marine Protection work. P.S. Did you snap any pictures of the paddle that you'd like to share with everyone? Send them our way and we'll be sure to add it to our gallery!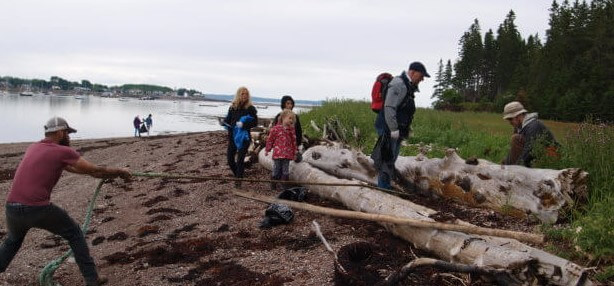 Fundy Baykeeper at the Great Fundy Coastal Cleanup
On Saturday, July 15, our Fundy Baykeeper Matt Abbott helped organize a beach cleanup on Navy Island, off the coast of St. Andrews, as part of the Nature Trust of New Brunswick's second annual Great Fundy Coastal Cleanup. More than 100 volunteers participated in events along the Bay of Fundy shoreline, including around 20 people at the Navy Island event led by our Baykeeper. We collected lots of garbage, plastics, and other marine debris, and walked away with a greater appreciation of the need to keep our marine environments free from this type of pollution. 
You can help by
supporting our Marine Conservation program
.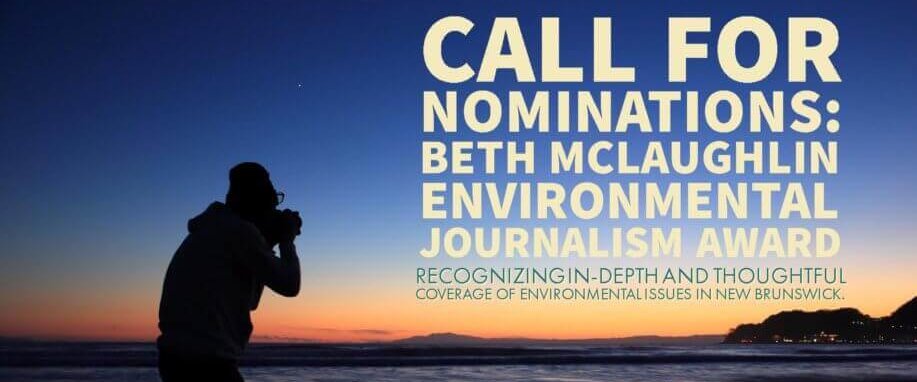 Last call for nominations for Beth McLaughlin Environmental Journalist Award 
There is only one week left to nominate your favorite New Brunswick environmental story for our annual Beth McLaughlin Environmental Journalism Award. Submit your entry for outstanding reporting on environmental issues to the Conservation Council of New Brunswick, Southeast Chapter's Environmental Journalism Award Committee at ccnbsoutheast@gmail.com by July 31.
THE LATEST CCNB IN THE NEWS
We work hard to make sure a strong environmental voice is heard in the New Brunswick print, radio and television media. Here are the latest stories Conservation Council staff have been called upon for expertise, analysis and commentary:
July 26: Canada's pesticide regulator "captured by industry" — Lois Corbett spoke to the National Observer's award-winning investigative journalist, Bruce Livesey, about Canada's problematic pesticide management agency.
July 24: Conservation Council spreading the power of pollinators — The Conservation Council's recent effort to help teach New Brunswick kids about the importance of pollinators was highlighted in a New Brunswick Telegraph-Journal story, published July 23, focused on pollinator education events and activities happening around the province this summer.
July 20: Letter to the editor: Setting the record straight on N.B. pollution targets —  In this letter to the editor, published in the New Brunswick Telegraph-Journal and Fredericton Daily Gleaner, Lois Corbett sets the record straight on N.B.'s pollution targets and reminds decision-makers that we still have a lot of work to do.
THANK YOU FOR READING