In this edition of EcoNews, we invite you to join hundreds of New Brunswickers who have already sent their letter demanding the province ban the spraying of glyphosate-based herbicides in our Crown forest; we share our reaction to Corridor Resources halting its search for investors in its shale gas prospects in southern N.B.; we bring you the latest installment of our series on climate change and the extreme weather its fuelling in New Brunswick; and welcome you to join us at some fantastic upcoming events, including a fundraiser for our friends at Stop Spraying New Brunswick and our 50th anniversary gala coming up in October!
News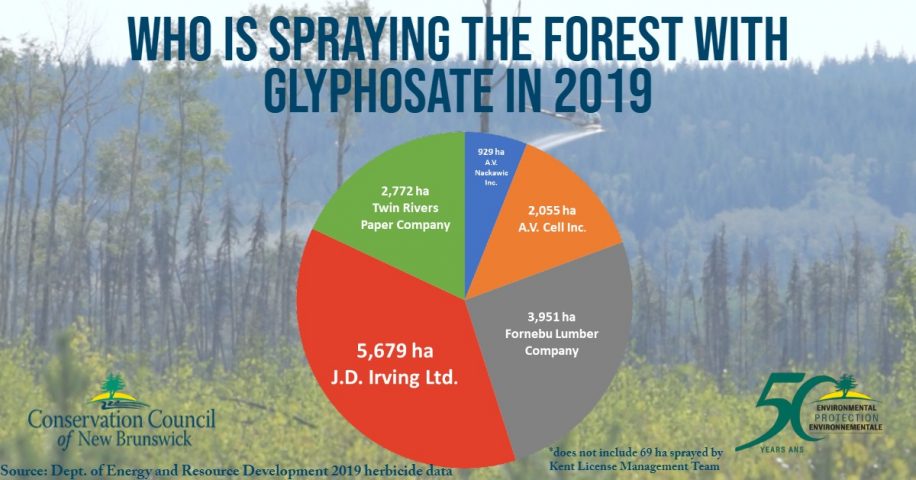 Have you sent your #stopspraying letter yet?
The 2019 herbicide spray maps are out and already hundreds of New Brunswickers have used our letter-writing tool to call on the provincial government to ban this old fashioned and unnecessary practice in our Crown forest.  Click the button below to send your #stopspraying letter and see our maps of spraying hotspots near waterways, provincial and national parks, and other notable destinations in New Brunswick.
Time to turn the page on fracking in New Brunswick
With Corridor Resources announcing earlier this month that it is ending its search for investors in its shale gas prospects in New Brunswick, our Executive Director, Lois Corbett, calls on the provincial government to stop the endless conversation about shale gas and turn toward cleaner energy sources that will help protect New Brunswickers' physical and mental health from the climate crisis. Click below to read the full statement.
After the flood: Former EMO director says proactive approach to natural disasters needed
In the latest from our After the flood series about the climate crisis and public health, our writer Joe Tunney brings you reflections from a former director of New Brunswick's Emergency Measures Organization about the stark increase in costly natural disasters he observed over his career, and how government agencies have failed to keep up with the pace of extreme weather fuelled by climate change.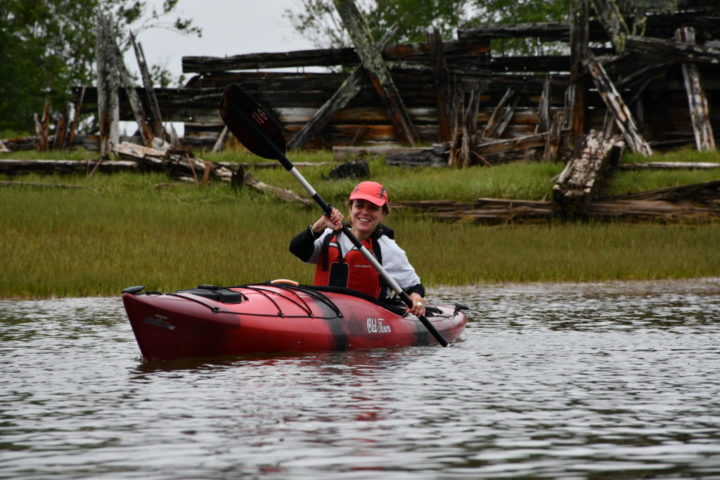 Highlights from our largest-ever Musquash Paddle
Nearly 120 people joined our Fundy Baykeeper Matt Abbott for an amazing day on the water through the beautiful salt marsh and coastal islands of the Bay of Fundy during our annual Musquash Paddle in July. Read highlights from the day and take a look at the 10-year effort spearheaded by your Conservation Council to get this pristine area the protection it deserved.
Read our climate change and health special edition of EcoAlert Magazine
In case you missed it, our special edition of EcoAlert Magazine hit the shelves earlier this summer, bringing you stories on the public health consequences of the climate crisis, highlights from our 2nd annual Eco Buildings Tour, the passage of Canada's new and improved Fisheries Act, the Conservation Council's big win at NB Power's Energy Efficiency Awards, and more. Read the online version below, and contact us if you'd like to receive a free hard copy version in the mail.


Celebrate 50 years of environmental action with us this fall!
As you know, we're turning 50 this year and we could think of no better way to celebrate than to honour the New Brunswickers who have helped make our work possible all these years. Our Eco Hero Gala takes place on Oct. 12, 2019 at the Beaverbrook Art Gallery in Fredericton. Click the button below for full details and to purchase your tickets today!

Events
Friday, Sept. 20 — Don't miss a night of great local tunes for a great cause at this upcoming fundraiser for our friends at Stop Spraying New Brunswick.
Thursday, Sept. 19 — We're excited to present the Wild and Scenic Film Festival at the New Brunswick Museum. Come for great short films and fantastic speakers during a post-film reception in the museum's beautiful marine exhibit. Seating is limited so reserve your spot today!
Friday, Sept. 20 — Mark your calendars for the return of the student-led #schoolstrikeforclimate protest at the New Brunswick Legislative Assembly in Fredericton. Stay posted to this space for more details closer to the date.
Thank you for reading!