In this edition of EcoNews, we bring you the latest number of New Brunswickers calling for an end to the spraying of glyphosate-based herbicides in our forest (teaser: it's a big number); our Tracy Glynn talks to reporters about the need for modern forest management in the face of climate change; we bring you news of a class-action lawsuit launched by hundreds of Quebec residents who say they've been negatively impacted by a large open-pit gold mine; our Fundy Baykeeper sets the record straight on the decades-old pollution test that Irving Pulp and Paper claims is unconstitutional; we invite you to have your say about what a comprehensive strategy to protect water should look like in NB; we bring you a pair of events to put on your radar; and much more.
NEWS
Add your voice to stop the spraying! 
Today, Fredericton South MLA David Coon tabled in the Legislative Assembly the latest signatures on the petition calling on MLAs to support a ban on the spraying of glyphosate-based herbicides in our Crown Forest. With the signatures added today, a total of 34,607 New Brunswickers have declared their support to an end of herbicide spraying in our forest, making it the largest petition on record in the province's history. We've made it easy for New Brunswickers to add their voice to this momentum by writing directly to their MLA about it. More than 1,500 people have sent letters to date — have you got yours in yet? Write your MLA to stop the spraying now!
Glynn urges new forest management model after federal report shows significant changes coming with climate change
A new Natural Resources Canada study says climate change impacts in the Maritimes may change the composition of our natural Acadian forest, leading to a gradual reduction in the growth of softwood trees. Responding to the news,  our Forest Campaign Director, Tracy Glynn, told reporters that New Brunswick should look at new models for managing our public forest, starting by ending the controversial practice of spraying glyphosate-based herbicides on Crown Land.
Three NB communities partner behind wind power
Three communities in New Brunswick are joining forces on a pair of wind farm proposals that would power 12,800 homes in the province with clean energy. "We're very excited there's an opportunity here to have local ownership of renewable energy," Dan Dionne, a representative of the Village of Perth-Andover, one of the partners, told reporters. 
Class-action lawsuit underway against large open-pit mine in Quebec
 More than 200 residents who launched a class-action lawsuit against the operators of a large open-pit mine in Quebec are getting their day in the Quebec Superior Court. MiningWatch Canada reports that the class-action suit — representing roughly 1,200 people, families and businesses near the Malartic gold mine outside Val d'Or, Que. — started before the Quebec court on Friday, Oct. 27. The residents are seeking compensation for damages related to dust, noise, and explosions they claim to have been exposed to for years.
Pollution test Irving takes issue with has been used "to the benefit of all Canadians"
Last year, Irving Pulp and Paper was charged under the Fisheries Act with 15 counts of dumping a harmful substance into the St. John River. In court documents filed this fall, Irving claimed it plans to fight the charges with a Charter challenge. Our Fundy Baykeeper, Matt Abbott,
told CBC New Brunswick
the pollution test that Irving Pulp and Paper
claims is being applied unconstitutionally
has in fact been used across the country for decades "to the benefit of all Canadians."
Stay tuned for our #nbwater toolkit!
New Brunswick needs a strong plan to lay out exactly what, when and how it will protect water in our beautiful, wet province. The provincial government recently released its draft water strategy, and now it's up to us to ensure decision-makers know that protecting water is a top priority for New Brunswickers. Right now, until Nov. 20, 2017, you can submit your comments on the development of the government's Water Strategy for New Brunswick, 2018-2028. You can send your comments via email to waterstrategy-strategiedeleau@gnb.ca or by mail to Department of Environment and Local Government, Policy and Planning Division, P.O. Box 6000, Fredericton, N.B., E3B 5H1. As you read this, we're working on a toolkit to help people wrap their heads around what we need in a strong water strategy and new water protection law. Stay posted to our blog and social media channels over the next few days to get your free #nbwater toolkit.
EVENTS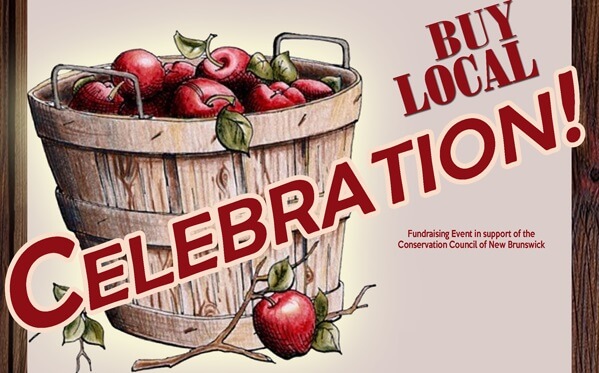 Get your tickets now for our Buy Local Celebration!
Everything tastes better with friends, family and fresh local ingredients! That's why we're inviting you to join us for the Conservation Council of New Brunswick Southeast Chapter's Buy Local Celebration, coming up on Sunday, Nov. 19. Enjoy a complimentary glass of wine and hors d'oeuvres in the new Dolma Food Restaurant  (251 St George St, Moncton, NB), with guest speakers, a silent auction, water tasting, prizes, and presentation of the 2nd annual Beth McLaughlin Environmental Journalism Award.  All proceeds support our work at the Conservation Council!
Learn about Fish of the Upper St. John River Watershed
Learn more about the fish of the Upper St. John River and the issues affecting these species during the St. John River Watershed Association's Upper St. John Fish Forum on Nov. 17 at the Edmundston Convention Center. Hear from various specialists and stakeholders in aquatic resources from New-Brunswick, Quebec and Maine. 
Get the full details here
.
THANK YOU FOR READING!