In this edition of EcoNews, we encourage you to check out the latest exhibition from our inspiring From Harm to Harmony community art collaboration; we invite you to become part of the next art exhibition as we expand this innovative project once again;  we bring you our reaction to the IPCC's latest report, Climate Change 2022: Impacts, Adaptation, Vulnerability, and what it should mean for New Brunswick leaders writing our next climate action plan; and, our Marine Conservation team brings you a rundown on how climate change is affecting New Brunswick's ocean, shorelines and coastal communities, and what we and our allies are doing about it.
Celebrate Earth Day With NB's Artists For Climate Action
Join us on Earth Day (April 22) for an evening of celebration, heart-felt conversation and inspiring artwork at the Fredericton opening of our latest community art exhibition, From Harm to Harmony: Healing The Land, Healing Ourselves. This year's Earth Day is all about eco-anxiety: what it is, why we're feeling it, and what we can do about it—and we can't think of a better way to spend an evening of healing than with good company, great food, and an art exhibition centred around New Brunswick artists' vision for a kinder, more sustainable province and world. Click the link below for the full event details—we hope to see you next week!
The Science Is Clear, The Politics Muddy, The Public Distracted
It's been a roller coaster of a month for climate news: another bleak report from the IPCC; a federal budget that doesn't quite rise to the challenge; and the heartbreaking approval of a massive Newfoundland and Labrador offshore oil project. Our Dr. Louise Comeau, director of climate and energy solutions, brings us this reflection on the barriers—and opportunities—for building a better world.
Wolastoq/St. John River Named National Priority in Budget 2022
The federal budget, released earlier this month, had some good news for freshwater protection—and a fairly rare New Brunswick cameo in the budget speech. Our beautiful and bountiful Wolastoq/St. John River was named as a federal priority for freshwater cleanups, alongside big names such as the Great Lakes, St. Lawrence River and Lake Simcoe. As an organization which founded out of concern for the health of the Wolastoq, we are especially pleased to see the mighty river get some love through the $19.6-million Freshwater Action Plan.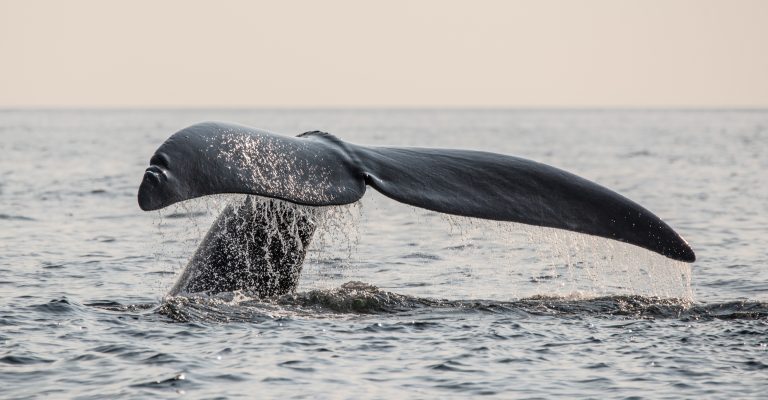 Track North Atlantic Right Whales As They Move Toward Canadian Waters
North Atlantic right whales are on the move. Scientists have identified the majestic yet critically-endangered species in unusually high numbers in Cape Cod Bay for this time of year. You can use Fisheries and Oceans Canada's interactive map to track the whales as they make their way to Canadian waters this summer. Our Marine Conservation Team continues to work with allies to reduce the threats to this beautiful creature.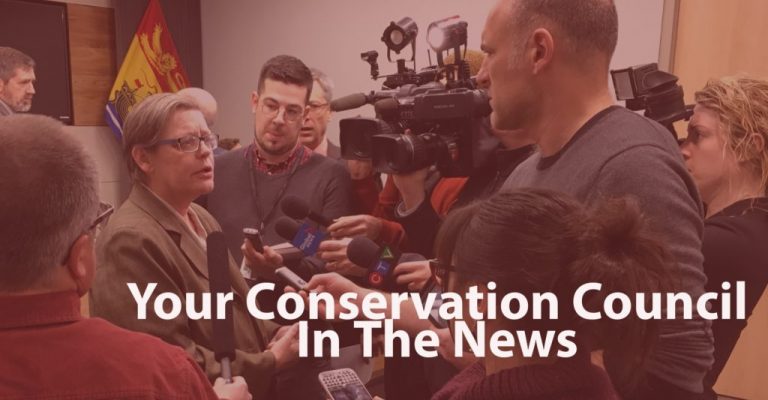 We work hard to ensure a strong environmental voice is heard in the New Brunswick print, radio and television media. Here are the latest stories Conservation Council staff have been called upon for expertise, analysis and commentary:
*Recommended listen* April 6, 2022: Our Dr. Louise Comeau speaks with CBC Information Morning Saint John about the latest IPCC report, her worries over climate inaction, and her vision for a more sustainable society. Listen here. You can also listen to similar conversations between Louise and CBC InfoAm Moncton here and Halifax here.
April 6, 2022: Louise Comeau speaks with CBC New Brunswick about government support for public transit amid high fuel prices. Read the story.
April 8, 2022: Our Executive Director, Lois Corbett, speaks with the New Brunswick Telegraph-Journal about the Wolastoq/St. John River being named a national cleanup priority in budget 2022. Read the story.
April 8, 2022: Louise Comeau speaks with the New Brunswick Telegraph-Journal about the provincial government's push for more pro-nuclear content in N.B. classrooms. Read the story.
April 11, 2022: Louise Comeau speaks with CBC New Brunswick about the province's carbon pricing system. Read the story.
Thank you for reading our newsletter!