This past weekend I had the chance to attend the first-ever Passport to a Low Carbon Future EcoHomes Tour.
Presented by the Conservation Council and the Saint John chapter of the Council of Canadians, this event was a self-guided tour of 12 homes and buildings within southern New Brunswick. I was keen to learn more about what these people had done to their homes to lessen their carbon footprint and live more harmoniously with nature and their surrounding environment!
The first home we visited was The Terra Berma Project on the Kingston Peninsula. Built out of rammed earth, cob and tires, this offgrid home has both passive solar and solar panel systems and a green roof, composting toilet and potable rainwater collection system. They even have a windmill!
Having visited twice before, I was excited to see what had been done to the home since I was last there. Open and airy, with large windows covering one entire side of the house, you would never know it was built into the side of a hill.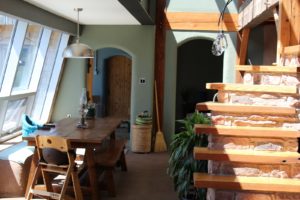 The homeowners, Jenn and Jay Hannigan, along with their two children, regularly open their home for tours and host a variety of workshops throughout the year. As we were leaving, they made sure to let us know we were always welcome to come back and visit!
After a short drive we came to the second stop on our journey — a beautiful red house built atop a hill with an expansive garden below (that made me totally jealous!). As we drove up the driveway we could see the front of the roof was covered in solar panels.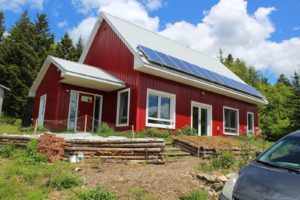 The house, owned by Sima and Josh, is also completely offgrid. Designed by a passive house architect, it was built on a southern exposure, has wood heat, in-floor heating and a solar array. Additionally, both Sima and Josh own hybrid vehicles and Sima works from home, greatly reducing their transportation footprint.
We were welcomed in and offered a glass of rhubarb lemonade (yum!) and told a bit about the house. They showed us how far the sun shines in on their living room floor; in the summer (about a foot or so) versus in the winter (all the way to the back wall!). This ensures the home stays cool in the summer and is warmer in the winter. After saying goodbye to the couple and their cute pooch, we were off again!
Our next stop was an offgrid artists cabin. After commuting between stops in the car all day we were looking forward to the 25-minute walk into the woods! Owner Glen Hall welcomed us upon our arrival. On a foundation of railroad ties, cedar posts, and repurposed stage sets from a local theatre company, the cabin is full of character and environmentally-friendly components.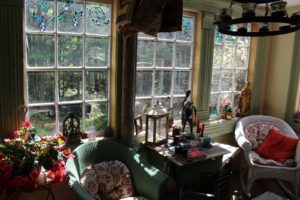 Glenn told us he had originally built only the small section of the cabin that now housed the living room. Years later he added an upstairs bedroom and artist loft and extra room downstairs for a larger kitchen and sitting area. Glenn uses a propane fridge and has a composting toilet and rainwater collection system. He even showed us how he rigged up an old motor to run the water for his shower!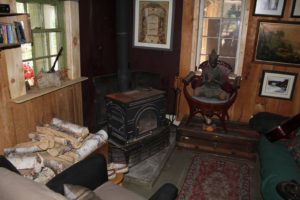 Full of memorabilia from the 70s and 80s and an impressive art collection, every square inch of this home told a story. As we walked back to our car and met people on their way in we kept telling them — the walk is worth it!
A quick ferry ride later, the last stop on our journey was New Brunswick's first Net Zero certified home! Brad from MCL Construction, who built the house, was there ready to answer all of our questions.
Sitting atop a hill in a small Quispamsis subdivision, this three bedroom, two bathroom two storey house uses a combination of energy-saving building techniques and rooftop solar panels to produce, on average, as much energy as it consumes. Sometimes it even sends extra energy back to NB Power! This home has been on the market for a few years but has been used for educational and demonstrative purposes during that time. We were shown the low-velocity heat pump in the basement and the battery storage for the solar panels in the garage. It was fascinating to see just how every choice made during the construction process was thought through with energy efficiency in mind!
As an apartment dweller and potential future homeowner, the houses today gave me a great deal of inspiration. From the earthen walls of Terra Berma, to the modern family home in Quispamsis and those in between — there is something for everyone. I believe that a little bit of creativity and inspiration from those who want to live a cleaner, healthier, more environmentally-conscious lifestyle will show others that it might be alot easier than they think!
Feeling inspired? Learn what you can do in your home:
Want to help us hold more great events like this? Make a donation today!