A Bold, Made-in-New Brunswick Plan to Address Climate Change
July 13, 2016
Conservation Council of New Brunswick releases policy options to spur climate change conversation
Fredericton, N.B. – A new report from the Conservation Council of New Brunswick, released today, offers provincial politicians, environmental policy makers, and citizens a bold vision for New Brunswick. The three-part plan covers electricity, provincial investments, and government policies required to reduce greenhouse gas emissions while keeping bills low and creating jobs for New Brunswickers.
The Conservation Council's "Climate Action Plan for New Brunswick" proposes to reduce these emissions through investments to retrofit our buildings, starting with social and low-income housing; expanding efforts to install renewable energy like solar and wind; and accelerating installation of the Energy Internet (Smart Grid telecommunications) to manage a more distributed electricity load. These investments would help NB Power phase coal out of electricity production over the next 15 years. The Conservation Council's plan also proposes creating incentives to help New Brunswickers buy electric and energy efficient vehicles and trucks as Ontario and Quebec have done, and modernizing industry and manufacturing to cut waste and pollution.
For more information on our Climate Action Plan, read our Media Package:
---
Looking for quick information on Climate Change and Energy Solutions, check out these resources!
Communicating Climate Change:
Responding to extreme weather
---

Conservation Council letter to Nova Scotia Environment and Climate Change Unit on Nova Scotia Cap and Trade Design Options
March 30,2017
Climate change threatens Atlantic Canada's quality of life, security and capacity to prosper economically through coastal sea level rise and erosion, extreme weather events, and changes to ecosystem function affecting fisheries, forestry, and public health. The need to put our regional, national and global economies on track to net zero greenhouse gas emissions in less than two decades is urgent. We cannot afford to backslide on progress or to undermine our capacity for a smooth transition to low and non-emitting energy sources to fuel our lives.
Sadly, the Nova Scotia cap and trade proposal threatens to do all these things. If implemented as proposed, the cap and trade proposal could lead to increased greenhouse gas emissions in Nova Scotia, compared to the 2017 reference case. It could slow real and exciting progress toward decarbonizing the economy. It could put at risk the province's capacity to contribute to regional greenhouse gas reduction targets for 2030, as well as 2050. Worse, it could undermine regional progress as provinces like New Brunswick look to get the same deal as Nova Scotia. Let's take each of these concerns in turn.
---
Opportunities to Adapt Climate Change Communications 
March 15, 2017
Looking to learn how to communicate better about climate change? 
Conservation Council's Climate Change and Energy Solutions Director Dr. Louise Comeau invited the public to an online presentation on March 15, 2017 on the do's and dont's of communicating climate change.  If you work for the private or public sector, with non-government organisations or educational institutions, and you are struggling with how to communicate about climate change and environmental solutions like carbon pricing, you will find this webinar helpful to your work.
Download the full presentation and get a crash course on the benefits of investing in clean energy, the challenges we deal with when discussing the issue and learn the best narrative to use when discussing climate change.
Download the Dr. Comeau's March 15, 2017 presentation: OpportunitiestoAdaptClimateChangeCommunicationsMarch2017
---
Healthy Water, Healthy People: New Brunswickers' concerns and attitudes about fresh water and preparedness for extreme weather events
A majority of New Brunswick citizens are very concerned about water pollution, according to a new comprehensive survey conducted by our Director of Climate Change and Energy Solutions, Dr. Louise Comeau, on New Brunswickers' concerns and attitudes about fresh water and preparedness for extreme weather events
 The poll found that 79 per cent of those asked said they were worried about pollution going into rivers, lakes and streams, both of which is allowed by the Department of Environment and illegal dumping and runoff.
Survey questions focused on freshwater perspectives in the province and our attitudes on preparedness in the face of extreme weather.The 500-person survey, conducted for the Conservation Council by Corporate Research Associates, also found 70% of New Brunswickers strongly believe governments are mismanaging fresh water supply.
While clean water clearly is a health and natural resource concern for New Brunswickers, there is less awareness of the water-related impacts and risks associated with a changing climate. Seventy-seven per cent of respondents believe they are not at risk of flooding or drought, with only 28% believing that their family is likely or very likely at risk of flooding; 36% believe the same about post-tropical storms or hurricanes. When asked if they are worried about a range of extreme weather events, respondents showed low levels of worry, with 21% worried or very worried about floods; 21% about post-tropical storms and hurricanes; 12% drought; and 34% ice and hail storms.
New Brunswickers also show a low level of preparedness for extreme events like flooding (29%); post tropical storms and hurricanes (25%); 15%, droughts; and 35% ice and hail storms. When asked how prepared residents feel to deal with the consequences of extreme events, 25% of respondents feel prepared or very prepared to be displaced from their home; 31% prepared for a loss of drinking water; and 45% a loss of power. Given the recent 2017 ice storm in the Acadien Peninsula leaving many without power, heat and safety for over 10 days, these results are a concern.
The Conservation Council believes survey results underscore the need for government leadership both on cleaning up, and preventing, pollution being released into our precious waterways and on investing in infrastructure and preparedness to protect citizens and communities from the risks of extreme weather resulting from climate change.
This survey remedies the issue of larger, national surveys that tend to combine results for all maritimes provinces by limiting data analysis on small numbers of regional respondents.
---
Conservation Council's Dr. Comeau releases study on carbon narratives in  New Brunswick
Feb 15, 2017
Fredericton – Narratives that frame carbon pricing as a common-sense tool to make polluters pay their fair share of environmental damages while creating incentives that unleash innovation and creativity, are favoured by New Brunswickers, concludes a new study by our Climate Change and Energy Solutions Program Director, Dr. Louise Comeau in collaboration with UK-based Climate Outreach.
Carbon pricing is a priority of Canadian and provincial governments. That the Conservation Council believes this research looking at how framing carbon pricing in a different light can change the way we view the mechanism will be a useful tool for New Brunswickers.
The overarching objective of this ongoing research is to determine which, if any, frames/narratives on carbon pricing are supported most strongly by the centre-left and centre-right. The goal in 2017 was to determine, through focus groups, why participants liked or disliked different carbon pricing frames and narratives, to refine narratives, and then to test, quantitatively, refined narratives through a representative sample of New Brunswickers. We conducted three focus groups and executed an online survey with 505 New Brunswick respondents.
---
Conservation Council's Recommendations on how to respond to ice storms
February 4th, 2017
Fredericton – Following a series of extreme weather events that have been plaguing the province, the Conservation Council of New Brunswick is actively researching the effects of extreme weather events and New Brunswick's capacity to adapt and respond to climate-change-induced extreme weather events.
Last October, we released a report, with recommendations, based on an assessment of how Fredericton responded to Post-tropical storm Arthur. Several of the recommendations we made to the province, the city and to the Emergency Measures Office (EMO) at that time are relevant to the inquiry into how EMO and NB Power responded to the recent ice storm affecting the Acadian Peninsula. The Appendix summarizes our recommendations. We also provide additional recommendations and note some of the most important recommendations from the Post-tropical storm Arthur study.
For more information, read our October 2016 recommendations on how to minimize risks to citizens from climate-change-induced extreme weather:
---
New Brunswick's Climate Action Plan Lays the Foundation for Clean Job Creation
December 7, 2016
Fredericton – The Government has listened to New Brunswickers and delivered a credible Climate Action Plan that has all the elements needed for effective implementation: commitments to Premier-led governance, target-driven policies, and sources of funding to support programs for low-income families, homeowners, and industry.
"This is a significant milestone for the province that will set the stage for cutting waste and pollution, and help our province make the transition to a clean energy economy," says Louise Comeau, Director of Climate Change and Energy Solutions. "What matters now is ensuring full implementation of this plan over the next year. The Conservation Council will be working with the Government, industry and stakeholders to make this plan happen in ways that work for all New Brunswickers."
Plan highlights that were called for by the Legislative Select Committee on Climate Change, as well as the Conservation Council, include:
Cabinet committee on climate change, chaired by the Premier;
Climate change legislation to regulate our greenhouse gas reductions and energy efficiency improvement targets, and establish carbon-pricing mechanisms, including revenue recycling to greenhouse gas reduction programs;
Phasing out coal from electricity production and phasing in more renewable energy like solar, wind, biomass, and hydro; and
Ensuring that climate change and adaptation requirements are incorporated into all government spending, particularly on infrastructure.
"This is a good day for workers because this climate plan means more dollars spent to retrofit our buildings, to expand telecommunications networks, and to install and manage renewable energy technologies," says Comeau.
---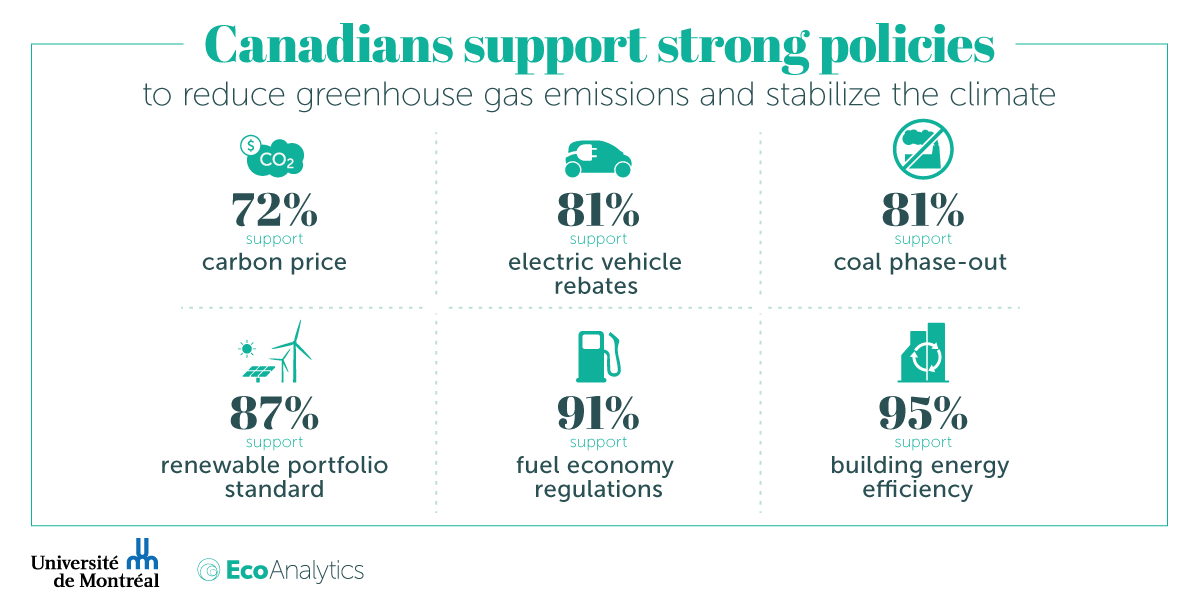 Majority of Canadians support climate action, says new poll
December 2016
Fredericton – A strong majority of Canadians support new regulations on energy efficiency, cleaner fuels and renewable energy, says a comprehensive new poll conducted by researchers at the University of Montreal.
With only four days until Canada's First Ministers are expected to release the details of a national climate plan, the survey of over 1,200 Canadians found that a strong majority of them believe a shift toward clean energy would bring a broad range of benefits, including clearer air and improved public health, reduced carbon pollution, new green jobs and increased technological innovation.
Key findings represent a sample of 1,200 Canadians that answered a 40-question survey conducted between Oct. 5th and Oct.18th.
Those findings include:
95 % of Canadians support building energy efficiency
73% Canadians believe their governments  should do more to limit climate change
81% of Canadians support a coal phase-out
71% of Canadians want more emphasis on wind
85% of Canadians want more emphasis on solar
87% of Canadians support renewable portfolio standards
72 % of Canadians show support for carbon pricing
For more information:
---
Out with the Coal, in with the New National benefits of an accalerated phase-out of coal-fired power
November 2016
As a 19th-century break-through technology, burning coal to produce electricity propelled massive improvements in the productivity and well-being of society. But in the 21st century, its continued use is much less revolutionary: coal combustion has well known health and environmental consequences. Throughout this paper, we make the case that a commitment to accelerate Canada's phase-out of coalfired power by 2030 must be a cornerstone element of the first ministers' upcoming national climate change plan. A commitment of this nature is a first step to getting Canada on track to achieve its 2030 emissions reduction target, and would secure important health and economic benefits nation-wide.
Download the full report:  Out with the Coal, in with the New National benefits of an accalerated phase-out of coal-fired power.
---
Conservation Council of New Brunswick Climate Action Plan Pre-Budget Submission
A path to a Low-Carbon Economy that creates jobs and sustains families and communities.
Nov 18, 2016
Climate Change is urgent as is the Province's need to create jobs and stimulate innovation. There is no reason why New Brunswick need wait until 2018 to announce its approach to carbon pricing. The Province should announce in the 2017 budget its carbon pricing plan with a commitment to implement it in 2017. In the next section, the Conservation Council summarizes its ideas for how the Province should use its carbon pricing revenue covering electricity, provincial investments, and government policy.
---
How to minimize risk from climate change induced extreme events
October 27, 2016
---
Select Committee on Climate Change Report Could Set Stage for a Sustainable New Brunswick
October 24, 2016
The Final Report of the Select Committee on Climate Change is a testament to the value of making our voices heard. Members of the eight-member, all-party committee listened to New Brunswickers and have delivered a report that could lay the foundation for long-term sustainability and stable jobs while meeting our climate protection goals.
---
Presentations to the NB Select Committee on Climate Change
August – Sept 2016
Download our  

September 9, 2016 

presentation to the NB Select Committee on Climate Change

: 

Clean Energy Solutions, by Liane Thibodeau, President of the Conservation Council of New Brunswick.
Download the our August 17, 2016 presentation to the NB Select Committee on Climate Change: New Brunswick's Climate Change Solutions Opportunity, by the Conservation Council's executive director, Lois Corbett, and Dr. Louise Comeau.
---