Here at Conserver House we're experiencing above normal levels of the warm and fuzzies when thinking about the New Year. Why? Because 2015 opened the door for so many possibilities in the year ahead!
Here's our list of Top 10 environmental highlights from 2015 that are leaving us optimistic and hopeful for 2016!
10. No Fracking Way!
2015 started off with a major win for our drinking water and rivers as Premier Brian Gallant's government enacted a moratorium on hydraulic fracturing across the province. Observers like Dr. John Cherry — one of Canada's top groundwater monitoring experts — have said this was the right public policy decision at the right time, and we'll continue our work to ensure decision-makers turn the page on fracking for good and create new opportunities in rewarding clean energy jobs.
9. Saving the planet — one ridiculously low heat bill at a time!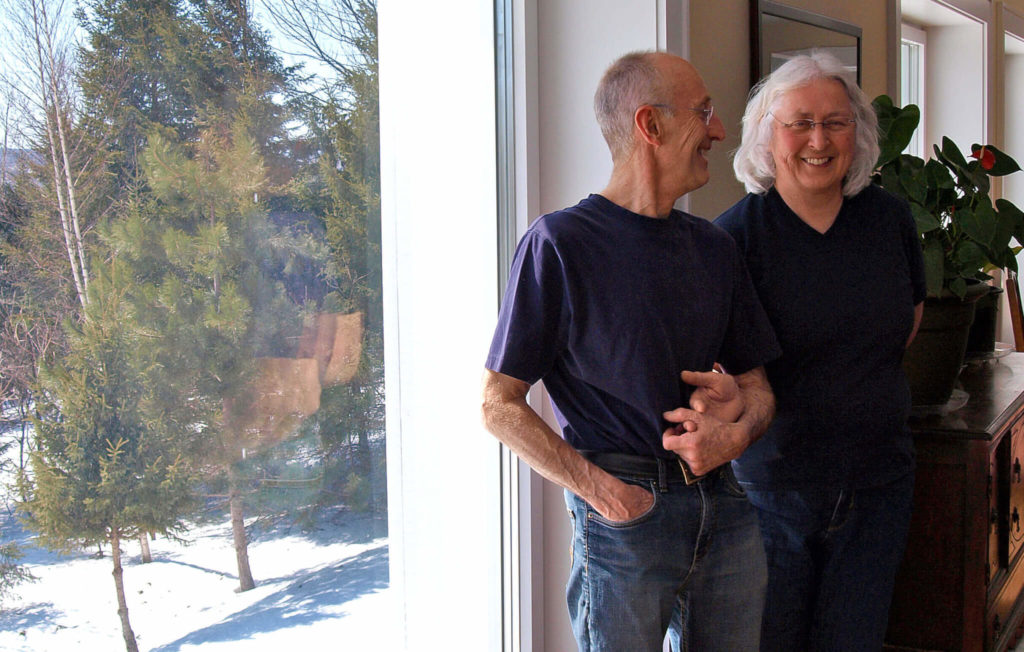 In January we wrote about homeowners in Fredericton who pay less than $10/month to heat their two-storey home thanks to a super energy efficiency building design! We wrote about this couple and other New Brunswickers who are doing their part to fight climate change and save themselves some money by embracing energy efficiency in their homes in our editions of EcoAlert Magazine this year.
8. TREEvia returns … with a vengeance!
We had TWO Treevia Nights in 2015 — one in February to kick off the New Year and one in November to close it. Both were an awesome success and ensured we'll be organizing plenty more environmental-themed trivia nights in the future!
7. Signing on for a cleaner future
In March, we organized to have each and every MLA in the New Brunswick Legislative Assembly, including Premier Brian Gallant, sign the Earth Day Flag and commit to living 'Earth Day Every Day.' Thousands of people across the country signed versions of the Earth Day flag. The signatures were compiled and added digitally to one master flag that was presented to world leaders at COP21 in Paris last month!
6. Marching toward climate solutions
Our Executive Director Lois Corbett and Communications Director Jon MacNeill joined more than 25,000 people on the streets of Quebec City in April for the Act on Climate March. What an inspiring and historic event it was, marking the largest climate action in Canadian history!
5. CCNB goes viral!
We got our first taste of Internet fame in 2015 when a video we uploaded to our YouTube channel went viral — racking up 4.5-million views within the span of a week! The video captured a humpback whale performing a spectacular breach in the Bay of Fundy. Aside from a phenomenal moment to witness, the video helped raise awareness of the magnificent creatures who frequent the Bay of Fundy, and brought attention to the report we'd released a week earlier about the risks posed to these charismatic animals by projects such as TransCanada proposed Energy East Pipeline.
4. Coming soon to NB: Shiny Rooftops
In September we welcomed the announcement of new regulations aimed at kickstarting renewable energy projects across the province. On the same day as the announcement, Lois attended the grand opening of the largest array of solar panels in New Brunswick, affixed to the roof of the Association of Professional Engineers and Geoscientists of New Brunswick's building in Fredericton. And just before the year closed, Stephanie Merrill and Jon attended the opening of a small vertical-axis wind turbine on the north side of Fredericton. We have a feeling we'll be attending plenty more of these in 2016. Earlier in the summer, we welcomed new e-waste recycling measures that will see New Brunswick's standards catch up to the rest of the country — also good news!
3. Minister of Change
We now have a Minister of Environment and Climate Change — how cool is that? Cooler still, Catherine McKenna not only led the Canadian delegation to the UN climate change negotiations in Paris last month, the federal government also invited representatives from all provinces and territories to attend. Talk about starting on the right foot.
2. Did they really just say that?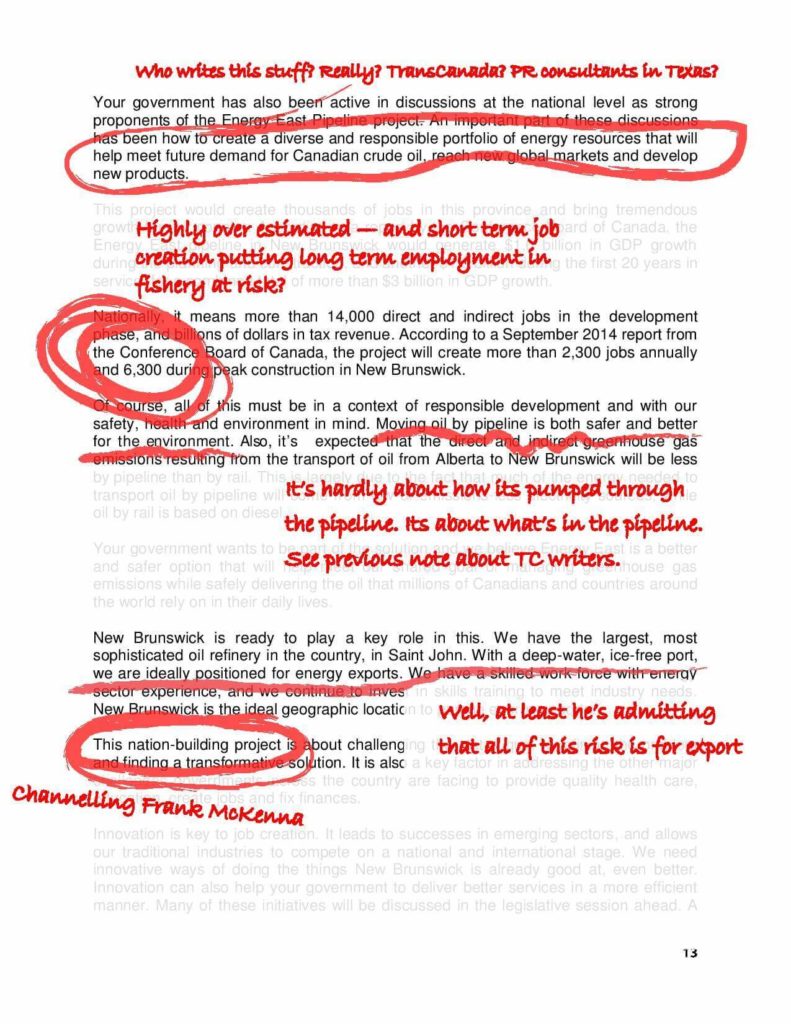 Hey, when you're pushing for sustainable forest management in a province as dominated by industry as ours, you celebrate whatever wins you get — however great or small. In the provincial Throne Speech delivered Dec. 3, our government said it was working on a forest management strategy that was more "ecologically-balanced." It was, we think, the best line in an otherwise uninspiring speech (that we just had to have some fun with), and we'll be doing everything we can to hold the province to its word on this critical issue through 2016.
1. COP21: Ushering in the End of the Fossil Fuel Era
We joined millions of people across the world in celebrating the first-ever global agreement to fight climate change following the United Nations' COP21 in Paris in December. The agreement, which aims to keep warming within 2 degrees Celsius with an eye toward a 1.5 degrees target, had many observers hailing the end of the fossil fuel era and the beginning of building a 100 per cent renewable energy future. We wrote all about COP21 and the role New Brunswick and Canada can play in this global effort in a special edition of EcoAlert.
---
Those were some of our highlights from the year. Have your own? Email them to jon.macneill@conservationcouncil.ca! 
---
Part of our Renewable Solutions NB Project
---