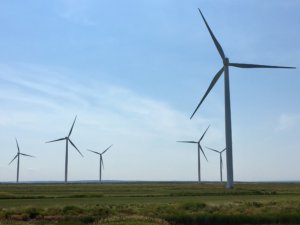 Three communities in New Brunswick are joining forces on wind farm proposals that would power 12,800 homes with clean energy.
Saint John Energy and smaller energy utilities in Edmundston and Perth-Andover recently submitted joint proposals to develop two wind farms, the Charlotte County Community Wind Farm near South Oromocto Lake, and the Chapman Community Wind Farm in Carleton County.
The proposals are part of NB Power's Locally Owned Renewable Energy Small Scale (LORESS) program.
"We're very excited there's an opportunity here to have local ownership of renewable energy and having some of the proceeds stay within the province," Dan Dionne, of the Village of Perth-Andover, told CBC News.
The two projects are valued at $60 million each, and, if approved, NB Power will buy 100 per cent of the output under a 25-year agreement. Dionne said the price for people whose homes would be powered by the wind farms would be comparable to what they pay for power now.
NB Power is currently reviewing LORESS proposals. If the wind farms are approved, the three utilities behind them say they could be up and running by the end of 2020.
Recommended links: