Our Learning Outside Coordinator, Nadine Ives, got a little love from the CBC this week for all her hard work on a project that's close to our heart and those living inf the greater Capital region.
Through our Learning Outside Project, Nadine has helped transform the Lincoln Wetland Nature Reserve into an outdoor classroom for students at nearby Lincoln Elementary School.

The 21-hectare nature reserve is a Nature Conservancy of Canada protected area divided into three separate areas, each focused on a different type of natural environment found in nature, including:  immature forests, wetlands, and a riparian forest located near the St. John river where endangered butternut trees can be found.
"She's a huge resource for our school," Ruth Claybourne, community schools coordinator at Lincoln Elementary, said of Nadine.
Claybourne said Nadine brings the nature trail to life by working with teachers to develop fun and educational activities that connect students to nature. She leads classrooms through the reserve, teaching students about native plants, animals tracks, even invasive species.
"They almost see it as an extracurricular activity, but it's not. It's part of our curriculum," Claybourn told the CBC.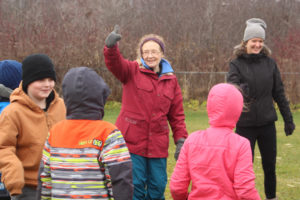 We know children thrive in natural settings with opportunities to engage all their senses. That's why Nadine focuses on creating fun outdoor activities that help little ones interact with nature using their sense of touch, smell, sight and hearing to help explore and have fun.
---
What do you want your kids to see when they look out their classroom window? How about a bigger more exciting outdoor classroom filled with limitless opportunities to learn from nature?
---
"If you see me at the end of the 'work day' and I'm looking a little muddy and windswept, it was probably just one of the very best kind of 'work days' — being out in this wetland area with some fabulous kids and teachers," Ives said following the release of the article.
"If you are not familiar with the Lincoln Wetland, I encourage you to take a walk along the trail. Whether it's all the flowering shrubs, the magnificent butternut trees, or the cacophony of bird and frog song in the marsh, I'm sure you'll be enchanted." The trail starts to the left of the school, just beyond the playground.
The Council's Learning Outside program helps New Brunswick's children reconnect with nature by developing creative ways to integrate nature into the teaching of all subjects through the development of outdoor learning spaces and provision of teacher training opportunities. 
To learn about exciting projects at schools throughout New Brunswick and what you can do at your school and how to go about it, visit the Learning Outside website.