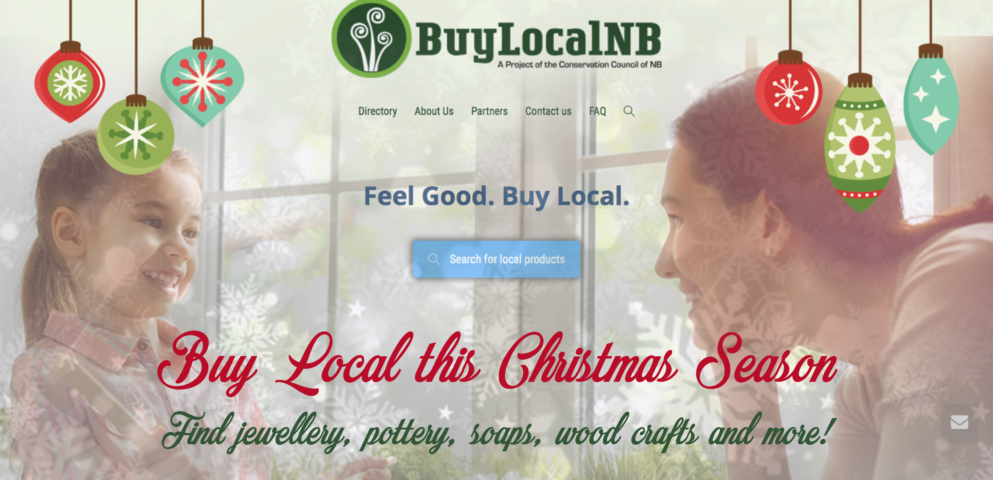 FREDERICTON — The Conservation Council of New Brunswick is reminding moms and dads that they have a free, easy-to-use service right at their fingertips chock full of wonderful, local gifts that will make any recipient feel warm and fuzzy this holiday season.
BuyLocalNB.ca, the Conservation Council's free, searchable online directory, features more than 500 producers, farmers and craftspeople from all over the province.
"This is the perfect time of year to lay some lovin' on our hard-working entrepreneurs, farmers and craftspeople," said Lois Corbett, Executive Director.
"These folks contribute so much to our communities. Let's make sure we give them a chance to shine this holiday season."
The Conservation Council of New Brunswick launched BuyLocalNB.ca in 2009 to help support local producers and showcase to New Brunswickers the great variety of quality goods and products made right here in the province.
Remember, when you buy local, you:
Help your body and your health

.  Local food is fresher than food that's been shipped long distances. Local fruit, veggies, meat, eggs and dairy are at their nutritional peak when bought from local farm gates, farmer's markets and local grocery stores

Help the environment

. Local food and goods have a smaller carbon pollution footprint than many products found on shelves as they require less packaging and travel much shorter distances. 

Help strengthen your local economy

. When you buy from a local farmer or producer, your money stays in your community. Local producers create good jobs for New Brunswickers and create opportunities for other local businesses. Buying locally contributes to the development of strong urban and rural communities.
For more information or to arrange an interview, contact:
Jon MacNeill, Director of Communications: 506-238-3539 (mobile); 506-458-8747 (office); jon.macneill@conservationcouncil.ca