In this edition of EcoNews, we show you which communities' drinking water supply zones are being sprayed with glyphosate-based herbicides; bring you an update on Petitcodiac residents' quest to end the controversial spraying in their region; give you a rundown of Cooke Aquaculture's recent massive salmon farm failure; bring you our reaction to the latest news regarding the proposed Energy East bitumen pipeline; share our thoughts on what New Brunswick needs to do to weather climate-change related storms following the release of the 2017 Ice Storm Review; and give you lots of things to do with a fully-loaded listing of upcoming events.
News
Shouldn't municipal drinking water areas be chemical free?
We dug into the publicly-available herbicide spray data for 2017 and found that the drinking water supply zones of several cities and towns in New Brunswick are being sprayed with glyphosate-based herbicides.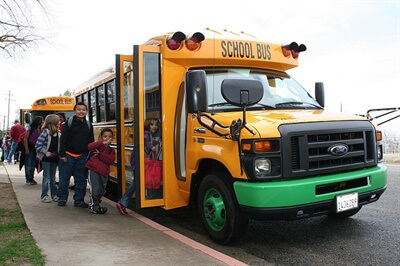 Ride on the electric school bus
Some students in the Moncton area returned to school in the true 21st century style this week — the province launched an electric school bus pilot program just in time for the new school year.
Glyphosate meeting leaves many questions (still) unanswered in Petitcodiac
At the open house organized by J.D. Irving Ltd. last night, many of the roughly 150 people in attendance complained that they were given the run-around, literally, in their quest for specific answers from company scientists at the meeting, while at one point, Petitcodiac Mayor Jerry Gogan lamented that "nobody seems to be getting their answers."
Cooke Aquaculture pen failure releases thousands of farmed Atlantic Salmon in West Coast waters
The company claimed the pen failed due to unusually high tides and strong currents related to the solar eclipse, but as oceanographer Parker MacCready put it, "the data speak for themselves: there were large tidal ranges around the day of the eclipse, but not out of the ordinary, and in fact they were smaller than during some recent months." Our readers will remember that this isn't the first time Cooke has been in hot water: in 2011, the company pled guilty and had to pay the highest fine ever levied for using an illegal pesticide at several of its Bay of Fundy farms.

Upcoming Events

There is a lot going on as summer winds to a close these next few weeks, including the return of our 5 Days for the Forest festival!
Five Days for the Forest schedule:
Monday, Sept. 25, 2017: Old Hemlock Forest Walk with Dr. Jim Goltz
Tuesday, Sept. 26, 2017: Great Trees of New Brunswick
Wednesday, Sept. 27, 2017: Getting to know trees!
Wednesday, Sept. 27, 2017: TREEvia
Thursday, Sept. 28, 2017: Omista Chews & Brews with Brent Mason (buy your tickets today!)
Friday, Sept. 29, 2017: Cinema Politica Fredericton: Surviving the Fundy Footpath
Other events: 
Saturday, Sept. 9, 2017: Tucker Park Recreation Association's Celebrate Tucker
Wednesday, Sept. 20, 2017: Nature Conservancy of Canada's Musquash Cove Cleanup
Wednesday, Sept. 27, 2017: Green Rights: The Human Rights to a Healthy World, with special guest Silver Donald Cameron
Every Thursday until Sept. 28, 2017: Nature Trust of New Brunswick's Frog Walks
The latest CCNB In The News
We work hard to make sure a strong environmental voice is heard in the New Brunswick print, radio and television media. Here are the latest stories CCNB staff have been called upon for expertise, analysis and commentary:
Aug. 25, 2017: NEB gets failing grade on Bay of Fundy impacts, says Corbett
Aug. 22, 2017: Corbett on 2017 Ice Storm Review
Thank you for reading