This post is also available in: French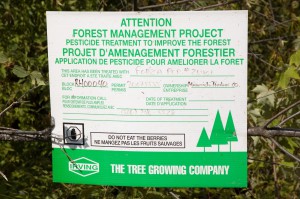 Over the years, old spruce and fir stands and beautiful maple and birch ridges have been clearcut, doused with herbicides and replaced with tree farms. The abundance of sugar maple, red oak, yellow birch and beech have all declined in our forests.  Herbicides kill broad leaf trees, shrubs and grasses, destroying the food source and habitats of many forest-dependent species.
Check out our factsheet on herbicide use in the Crown forest.
Check out our factsheet on what's wrong with N.B.'s Crown Forest management plan.
The most commonly sprayed herbicide, glyphosate, is currently under review by Health Canada. This re-evaluation is the result of a large and growing number of scientific studies that show the toxic impacts of glyphosates and associated adjuvants in a wide range of species including people. Given this, CCNB believes that a precautionary approach to its application should be considered. The Canadian review is still underway. In March 2015, the International Agency for Cancer Research, a branch of the World Health Organization, classified glyphosate as a probable cancer-causing agent.
New Brunswick taxpayers fund the mechanical site preparation, planting and spraying of our public lands, which according to Natural Resources Canada can exceed $1,000/ha.
At $1,000 per hectare, New Brunswickers would give $600 million in funding to the pulp and paper companies over the next 50 years to convert vast swaths of our natural forest to artificial plantations and spray these with herbicides if the plan to convert 28% of our forest to plantations goes ahead.
Read what the New Brunswick Auditor General said about the silviculture program on Crown forests in her June 2015 report
New Brunswick stands alone in paying for the chemical spraying of its public forest. Nova Scotia recently announced that they will no longer fund herbicide spraying of their forest and will reduce clearcutting to 50%. Last September, P.E.I. announced it will pursue Forest Stewardship Council certification for all of its public forest; this would mean banning herbicide spraying. Quebec banned herbicide spraying of its public forest over a decade ago in 2001.
New Brunswick has been spraying herbicides since the 1970s when it first permitted pulp and paper companies to clearcut natural forest and replace it with artificial plantations. Spraying usually occurs one to two years after a plantation has been established. Herbicides are sprayed once or twice over plantations to poison hardwood trees and shrubs that compete with the planted softwood trees for space and nutrients. Spraying occurs each year in August and September and lasts about 40 days.
In 2011, 4,000 New Brunswickers signed a petition to end herbicide spraying on Crown forest. It was the third petition against herbicide spraying tabled in the Legislature in less than a decade.