Here's a little-known fact:  New Brunswick has helped lead climate change action plans before.
At a time when governments across the continent were running away from doing anything on climate change, it was NB which tabled the motion to create the first carbon reduction targets at the Conference of New England Governors and Eastern Canadian Premiers (NEG/ECP) in 2000.
The action plan, finalized in 2001, contained modest goals but served the greater purpose of getting other governments across Canada and the U.S. thinking and talking about what they could do on climate change.
At the Conservation Council, we remember this little tidbit of our province's history well because it's also a part of our own: our members and staff pitched the idea of a regional action plan to government officials in 1999 and helped shape what was presented to premiers and governors a year later.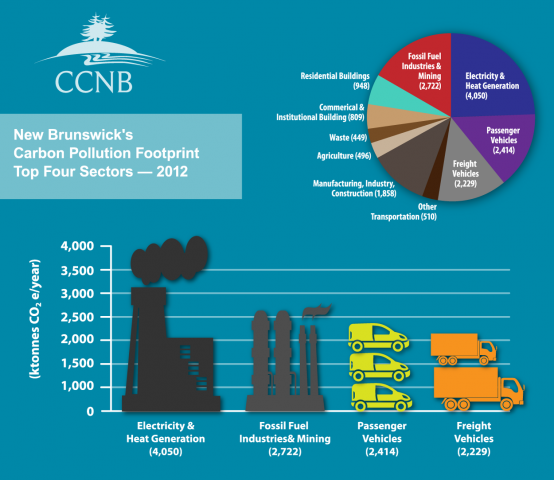 That's why we were exceptionally proud when the NEG/ECP released its latest climate change target at the end of August. Proud that our organization was a small part of this legacy, but more so that our province and our region has once again positioned itself as leaders in the task of protecting our communities from climate change.
The regional target agreed upon by Premier Brian Gallant and his colleagues at the NEG/ECP — to reduce carbon pollution by at least 35-45 per cent before 1990 levels by 2030 — is right up there with Ontario for the best pollution reduction target in Canada (Ontario's target is 37 per cent of 1990 levels by 2030).
Now, we just need the best plan to make it happen. What should that plan look like?
In New Brunswick, it could mean ambitious investments in energy efficiency programming that studies have shown would create 2,900 jobs in the province between now and 2040, and add $21 million in government tax revenue each year.
That's work for contractors, carpenters, electricians, plumbers — skills we already have in the province. We just need the right policies in place to get our men and women working to make homes more energy efficient, in turn reducing pollution and saving people money on home heating and cooling costs.
It could mean incentives and programs to complement the new small-scale renewable energy program the provincial government is introducing with NB Power. That means more work for contractors installing solar panels and windmills across the province, more engineers and designers building better small hydro projects, and less air pollution in our communities.
It could mean an innovative electric car incentive to help New Brunswickers enjoy the smooth, quiet and low-maintenance ride of electric vehicles, opening up new revenue opportunities for NB Power through charging stations.
And it could mean establishing research and development labs for renewable energy technologies at our universities and within the province's IT sector. The Institute of Biomedical Engineering at UNB is one of the best in the world — there's no reason we couldn't use our world-class talent to develop the energy systems that are already becoming big business in Canada and will only get more lucrative as the global market for clean energy grows.
Above all, the plan should give us the chance to see the benefits of transitioning to a climate-friendly province.
A low-carbon economy won't happen overnight and no one expects it to, but taking the right steps to get us there won't cause our economy to fall out from underneath us, either. It will grow stronger — with the right policies and leadership.
We appreciate that oil, gas and coal have helped build our communities for the past 150 years. Now, it's time to look at the energy sources that will shape our lives for the next 150.
The NEG/ECP's Climate Change Steering Committee will work on its plan to achieve the 2030 target for the next several months and will present it at next year's conference.
Back in 2001, New Brunswick — and the region of eastern Canada/New England as a whole — introduced to its colleagues in North America the first strategy for addressing climate change.
Now 14 years later, the 2030 action plan is a chance for our region to once again lead the way, this time showing the world the kinds of policies and programs needed to make change happen.
This commentary appeared in the Saturday, Sept. 19 edition of The Daily Gleaner and Oct. 2 edition of the New Brunswick Telegraph-Journal.
---
Part of our Renewable Solutions NB Project
---