In this edition of EcoNews, we share in the outpouring of grief, condolences and recognition of the need for deep, systemic change as the Black Lives Matter movement and other anti-racist and justice groups lead the work to end systemic racism and police violence against people of colour in our society; we bring you an article from our Gulf of St. Lawrence Fisheries Specialist envisioning an economic recovery that further strengthens our sustainable fisheries and coastal communities; and, we welcome the return of our Environmental Youth Group and invite parents and grandparents to get their young ones involved in the group's new social-distance-friendly activities.
In solidarity with our Indigenous and Black neighbours
The Conservation Council of New Brunswick is appalled by the many examples of systemic racism in our society, many of which are currently coming to public prominence thanks to the important work of Black Lives Matter and other anti-racist and justice movements. We are especially appalled by the heart-wrenching killing of Chantel Moore and Rodney Levi by police in New Brunswick this month.
It is disturbing to see the impact of ongoing racism in our society, and we know that our Indigenous and Black neighbours have to contend with the realities of systemic racism every day. We know the environmental movement is not free from systems that disadvantage Indigenous, Black, and other marginalised communities. We also know that without hard work, meaningful relationships, and a lot of listening, the environmental movement risks missing the full impact of the intersections between environmental degradation and inequality.
We have been thinking about this a lot over the past few weeks, and we know that we, along with the rest of our movement, can be better.
We stand in solidarity with Indigenous Peoples and the Black Lives Matter movement to end systemic racism across society, including the tragedies of police violence against people of colour. 
Our work at the Conservation Council has been strengthened and made more effective by the hard work and knowledge of the Indigenous Peoples of this land who we've had the pleasure to collaborate with over the years to work toward a more sustainable, just province. The important environmental results in New Brunswick, like the shale gas moratorium and many important habitat improvements, could not have been achieved without the leadership of Indigenous Nations.
We would like to share resources, compiled by the Sierra Club of Canada, on how we at the Conservation Council and our supporters can learn to better support our First Nations communities, Black community and other people of colour, and talk openly about racism and anti-racism. Click the link below to access these resources.
Let's protect our marine ecosystems to achieve a resilient, equitable and sustainable blue economy
From Baie des Chaleurs to Cap Tourmentin, there are no shortage of inspiring local efforts to grow the coastal economy while protecting our critical marine environment. But this region and our coastal fisheries have too been hit hard by the COVID-19 pandemic. Our Gulf of St. Lawrence Fisheries Specialist,  Anne Fauré, lays out the challenges posed by the pandemic and climate change to this sector and the people who depend upon it, and offers a way forward to build a fair, resilient, blue economy in New Brunswick.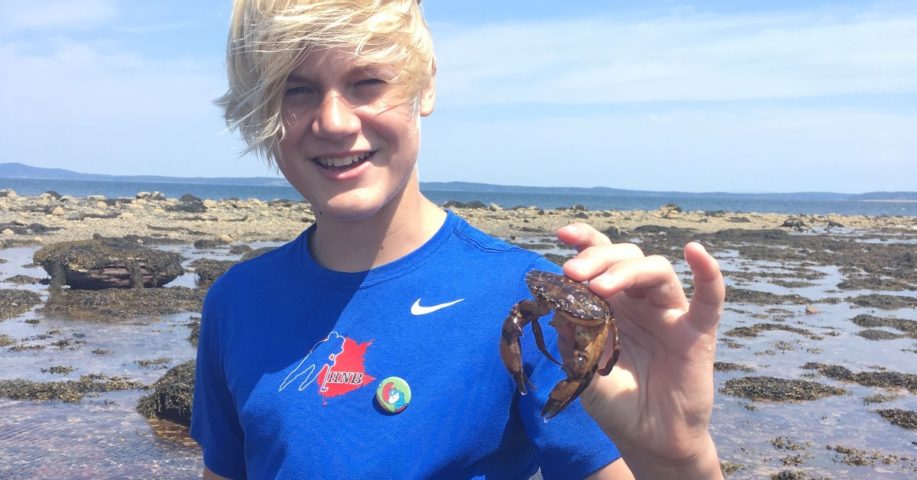 Our Youth Environmental Group is back (and social distance-friendly)!
Our Learning Outside intern, Meagan Burtt, is back with us this summer and she's excited to announce our Youth Environmental Group is back up and running! The group formed last year in the wake of the inspiring youth-led #SchoolStrike4Climate rallies and marches across New Brunswick (and the world). After a brief intermission, the group is running activities again this summer with safety in the pandemic era top of mind, ensuring all public health guidelines and social distancing rules are followed at all times. The group is open to all youth between 13 and 24 who want to collaborate on projects that make a difference in their communities while also getting out to appreciate the awesomeness of nature. Activities include workshops to learn new skills and more about environmental activism, hiking trips, beach tours and clean-ups, sustainable DIYs and more. If this sounds up your alley, or like something your child, niece, nephew or grandchild would love, get them to contact Maegan by email at
maegan.burtt@conservationcouncil.ca
or on Instagram @environmentalyouth.
New video at our climate action hub, For the Love of NB
Looking for the tools to better prepare yourself for the effects of climate change? Want to know more about the fundamentals of climate change, why it's happening, and what it will mean for us in New Brunswick? Whether you are just getting familiar with the reality of climate change or are a veteran community activist, our new climate change hub, For the Love of NB, is full of resources to help you be part of the solution in building a more sustainable and fair world. We have a new video this week in our series looking at how climate change is already affecting some of the things we love doing here in New Brunswick. We think you'll love Renate's passion for salmon fishing on our province's majestic rivers, and share her concern for the health of our salmon population as rivers and oceans warm in a changing climate.

We work hard to make sure a strong environmental voice is heard in the New Brunswick print, radio and television media. Here are the latest stories Conservation Council staff have been called upon for expertise, analysis and commentary:
June 17 — Our Executive Director, Lois Corbett, spoke to reporters about the controversial decision to appoint the top civil servant at the provincial department of natural resources to the same position in the department of environment. Read more and listen to Lois' full discussion with CBC Information Morning here.
June 4 — Dr. Louise Comeau, our Director of Climate Change and Energy Solutions, spoke about the need for a #BetterThanNormal economic recovery in NB during the New Brunswick Business Council's Turning Point series. Learn more and watch the panel with Dr. Comeau here.
THANK YOU FOR READING!