In this edition of EcoNews, an oil refinery product is released into a Saint John neighbourhood and Irving Oil won't say what it was; we bring you the first areas slated to be sprayed with herbicides in New Brunswick this summer; share the highlights from this week's public meeting about the controversial Officers' Square revitalization in Fredericton; bring you our reaction to the new Fisheries Act passing in the lower chamber; we take a closer look at a new study showing the mental health impacts of residential flooding, and more. 
NEWS
'Mystery product' released from Irving Oil refinery in Saint John
Our Executive Director Lois Corbett is calling for a 'good neighbours policy' after an unidentified product was released into the air from the Irving Oil refinery in Saint John this month. Neither Irving nor the province will reveal what was in the refinery product that fell on homes and vehicles in a nearby residential neighbourhood.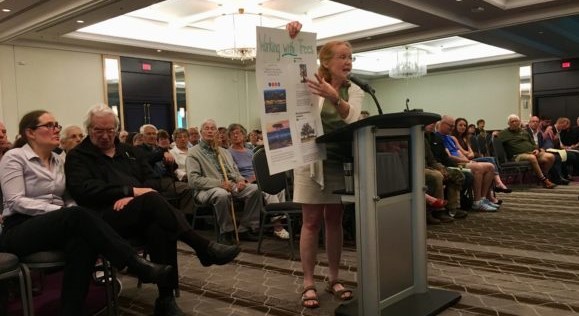 "Cities around the world will grow around a tree"
More than 200 people gathered in Fredericton on Tuesday night for a public meeting to address the city's proposed 'revitalization' of Officers' Square. Our Dr. Nadine Ives, Learning Outside Coordinator, started the night off with a presentation about the importance of urban trees and offering examples from across the world of cities and towns that have worked with their significant trees, instead of cutting them down or paving them over.
Herbicide spray season begins in New Brunswick
Here we go again. NB Power and the Canadian National Railway Company (CN) have released details of their respective herbicide spraying programs for summer 2018, expected to begin in early June and continue through mid-August. Read on to see if your community is on the list to be sprayed.
We are one step closer to historic changes that will give all fish, fish habitat and important, sustainable fisheries jobs the comprehensive and science-based protections they deserve in a modern Fisheries Act. Read on for our full statement on the Act passing in the House of Commons earlier this month.
Stress and high water: how flooding impacts our mental health
This year's historic flooding in New Brunswick damaged about 12,000 properties across the province – but it did more than just destroy bricks and mortar. A recent study released by the Intact Centre on Climate Adaptation found that residential basement flooding also has a serious impact on the mental health of homeowners.
Three cheers for Learning Outside!
Our Learning Outside Coordinator, Nadine Ives, got a little love from the CBC this month for all her hard work on a project that's close to our heart and those living in the greater Capital region.
Mark your calendar now! You're invited to our Annual Musquash Paddle – Aug. 11
Back for another beautiful day on the water, join our Fundy Baykeeper, Matt Abbott, in a 10-km canoe or kayak paddle down the beautiful Musquash Estuary, the only intact, fully functioning estuary in the Bay of Fundy. We paddle the Musquash every year to enjoy it and to celebrate its protection. This year's event will happen Aug. 11 — mark your calendar and stay tuned for registration details!