This edition of EcoNews includes the sparkling holiday edition of EcoAlert, the Conservation Council's pre-budget submission on forging a path to a low-carbon economy, the growing momentum behind the great tree hunt, Louise Comeau on what Canada's coal phase-out means, the connection between a coal phase-out and healthier food, Matt Abbott on Irving Pulp & Paper being charged with illegal dumping into the St. John River and how the Conservation Council is giving back with a cute tuque for little ones this holiday season.
Snowed in? No better time to read the holiday edition of EcoAlert Winter 2016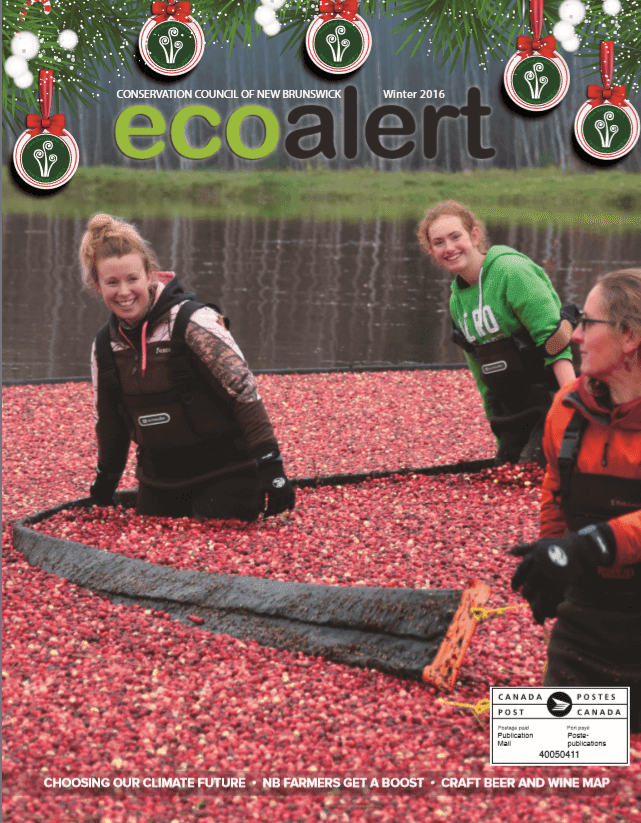 This special holiday edition of EcoAlert sets the stage for NB's climate future with an update on the Select Committee on Climate Change report, dives headfirst into NB's new Local Food and Beverages Strategy, and takes you on a tour through the province's burgeoning craft beer and cottage wine scene. Read it online here.

Pre-budget submission: A path to a low-carbon economy that creates jobs and sustains families and communities
The Conservation Council is urging the Province to include a carbon pricing plan in the 2017 budget. "If we act together we can limit the risks to our health and communities from a more extreme climate and help each other thrive. Climate change has no boundaries. It affects us all even if to varying degrees depending on how rich we are or where we live. The poor, the old and the sick will be hurt the most even here in Canada and New Brunswick, but especially in poorer nations. It affects us whether we contribute a lot or a little to the problem." Read our pre-budget submission prepared by Dr. Louise Comeau here.

The Great Tree Hunt is on!
New Brunswickers love their trees. The Great Trees of New Brunswick, Edition 2 will capture the affection that New Brunswickers have for their trees. Retired forester David Palmer is working with the Conservation Council on a second edition of our great trees. Palmer spoke with Terry Seguin on CBC Information Morning on Nov. 23 about the original book, published almost 30 years ago, and the hunt to find today's great trees for the second edition. Be sure to tune in to CBC Maritime Noon on Friday, Dec. 2 to hear more from David on the great tree hunt. Submit your great tree to Tracy at forest@conservationcouncil.ca or share your great tree on Facebook.
Louise Comeau on what to expect with the upcoming phase-out of coal power
Dr. Louise Comeau, the Conservation Council's Climate Change and Energy Solutions Director, spoke with Terry Seguin on CBC Information Morning Fredericton on Nov. 22 about the federal government's announcement to phase-out coal-fired electricity by 2030. "You need to think about the entire electricity system and look at how do we manage the transition to a clean electricity system that will generate electricity for the long-term," said Comeau. Read more here. 
Why Canada breaking up with coal will be good… for sushi?
Thanks to a declining use of coal, concentrations of mercury in Atlantic Bluefin tuna have dropped significantly. A study from Long Island's Stony Brook University notes a 19 per cent drop in mercury levels between 2002 and 2012 for the warm-blooded fish found in our sushi. The drop in mercury levels is linked to reduced coal burning. Read more here. New Brunswick, along with Nova Scotia, Saskatchewan and Alberta, will soon transform their electricity systems to non-emitting sources to comply with a federal regulation that requires all provincial electricity systems to meet an emissions-intensity standard so low that traditional coal-fired electricity will have to be phased out by 2030. Read more here.

'It raises a lot of questions:' Matt Abbott on Irving Pulp and Paper being charged with illegal dumping into St. John River

Irving Pulp and Paper Ltd. is facing 15 counts of illegal dumping into the St. John River. The company is alleged to have violated the Fisheries Act between June 2014 and August 2016 at its Reversing Falls mill in Saint John. Matt Abbott, the Conservation Council's Fundy Baykeeper, told CBC on Dec. 1st that, "It raises a lot of questions… Did someone know something was going on and then did it keep occurring, or was it stopped the minute it was found out about?" Read the CBC story
here. 
Warm a baby's head and not the planet

With a donation of $100 or more to the Conservation Council, you will receive a wool hat hand-knit by the Knifty Knitters and made with the best quality yarn from local vendor Briggs & Little. Keep the heads of our little ones warm and their futures bright by
donating to the Conservation Council today,
and hats off to you for your support!