Last night, Wednesday, September 21st, we had over 14 teams come to test their earthy knowledge on New Brunswick forest, waterways, fauna, flora and more!
This event was part of our 5 Days for the Forest festival happening this week in celebration of National Forest Week!
A few questions that stumped some in the crowd included:
What type of maple is the leaf of the Canadian flag? SUGAR!
In Canada, this beetle occurs only in New Brunswick. It inhabits cobblestone beaches of islands in the Saint John River and Grand Lake. What is it? COBBLESTONE TIGER BEETLE!
What city in New Brunswick is known as the 'City of Stately Elms'? FREDERICTON!
Some fun, creative team names included: Birch better have my money, The Compostables, We thought this was speed-dating, Gymnosperms, Timber Limbers and others.
Thanks to the Grad House for letting us host this event and thank you to everyone who came out to support the Conservation Council! Special thanks also go out to our TREEvia host Jeff Bate Boerop!
Be sure to check out the rest of our events:
Thursday, Sept. 22: Gala for the Forest with Gypsophilia at The Playhouse
Four-time ECMA award winning jazz band Gypsophilia will perform at The Playhouse in a fundraiser for the Conservation Council of New Brunswick. Tickets: $40 + HST. Buy online at The Playhouse. $20 charitable tax receipt upon request at info@conservationcouncil.ca. Facebook event page.
Thursday, Sept. 22: Tumba Sound at The Capital
Join us for a night of dancing with one of our hometown favourite bands, Tumba Sound, at The Capital at 9:30pm. $8. Tickets on sale at the door. Facebook event page.
Friday, Sept. 23: Screening of A Beautiful Forest.
The film by the Aboriginal Peoples Television Network shares the beauty of our forest and wisdom of elders on Aboriginal rights and treaties. Co-hosted by Cinema Politica Fredericton, the film will screen at Conserver House, 180 Saint John St. at 6:00pm.
Here are some more images from the rest of the night!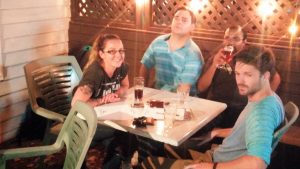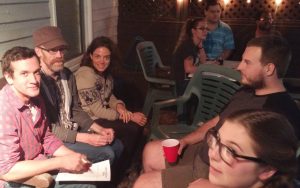 We will definitely be organizing more TREEvia Nights in the future — stay posted!