In this edition of EcoNews, we look at the call for swift action in the Gulf of St. Lawrence region in the wake of an unprecedented die-off of north Atlantic right whales and the tragic loss of a veteran fisher and whale rescue team member; we remember a prominent New Brunswick environmentalist who took on the the big polluters in his community; share some photos from our Learning Outside project to create pollinator-friendly gardens in Charlotte County; give you a recap of a pair of fascinating talks at Conserver House and in St. Andrews earlier this week; and more.
NEWS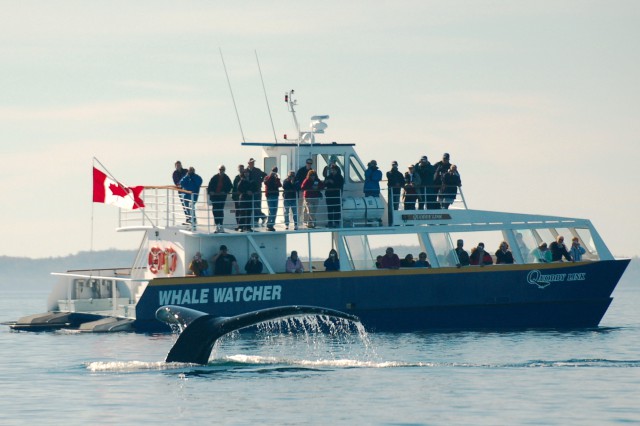 Seven dead right whales devastating blow: expert
Amid evidence that at least two of the seven right whales recently found dead in the waters off New Brunswick were likely struck by a ship, a wildlife pathologist leading the investigation says it's time to slow down tanker and ship traffic in the Gulf of St. Lawrence.

Remembering Ben Baldwin
Ben Baldwin will forever be remembered by many Miramichiers and New Brunswickers as the farmer who used his scientific knowledge to take on the polluters of Miramichi. 
Beautifying the Dragonfly Centre for Autism
Our Learning Outside Coordinator, Nadine Ives, and some of our new summer interns went to St. Andrews this week to help the summer campers at the Dragonfly Centre for Autism plant their brand-new pollinator garden.

19th Annual Musquash Paddle – July 22
Join the Fundy Baykeeper on a 10-km canoe or kayak paddle down the beautiful Musquash Estuary on Saturday, July 22 to celebrate this pristine estuary's protection! Boat rentals are limited so click the link below to register and secure yours today, or for more information contact Isaac Weatherhead at 506-529-8838 or isaac.weatherhead@conservationcouncil.ca.
Recap: Tides Talk with author Jonathan White
From the world's largest tidal bore in China's Qiantang River, to the small tidal island of Mont Saint Michel, to the world's highest tides at New Brunswick's own Bay of Fundy, our members in St. Andrews and Fredericton were treated to a fascinating talk yesterday about the science and spirit of the tide from author Jonathan White. We had a full crowd of members and new faces at both events, where Jonathan took us on his journey around the world to understand the mysteries and rich history of the tide and its impact on people, communities and wildlife the planet over. Thank you to everyone who came to listen, ask questions, munch on some Grand Manan dulse, and — we're sure — walked away with a deeper appreciation for this awesome natural phenomenon.
Free screening of Water Warriors tonight
Water Warriors is a 22-minute short film documenting the movement to protect the water and local sustainable businesses in Kent County, N.B. from the risks of shale gas fracking. Check out a free screening tonight at the Elsipogtog Community Hall.
THE LATEST CCNB IN THE NEWS
We work hard to make sure a strong environmental voice is heard in the New Brunswick print, radio and television media. Here are the latest stories CCNB staff have been called upon for expertise, analysis and commentary:
July 11: eCharge Network a key step: Corbett on transition to electric vehicles — Lois Corbett speaks to Global New Brunswick about the public e-charging network being built across New Brunswick and what more the provincial government can do to encourage people to get on board with environmentally-friendly electric and hybrid vehicles.
July 10: "They will treasure more and protect more": Corbett on new Swim Guide app — Lois Corbett speaks with 91.9 The Bend in Moncton about our contribution to the new Swim Guide app, featuring data on water quality conditions at beaches in New Brunswick and abroad.
June 29: Taking glyphosate out of forest is prudent move: Glynn — Tracy Glynn speaks to Global New Brunswick about the controversial use of herbicides in N.B.'s Crown forest following California's decision to add the active ingredient in such sprays — glyphosate — to its list of cancer-causing chemicals.